My Cheap Wedding Facebook Page Launches
Welcome to the latest issue of "Cheap Wedding Gems".
This e-zine will keep you up to date with all my latest tips and money saving ideas for your perfect cheap wedding day.
If you enjoy this e-zine and know someone who is getting married please forward a copy to them so that they can benefit from the various articles.
If this e-zine was forwarded to you by a friend and you would like to see more then please follow this link to see how you can sign up for future issues (don't worry it's completely FREE).
---
Contents:
- My Cheap wedding facebook page launches- Like us to keep in touch with our latest updates.

- Latest articles on my-cheap-wedding.

- Tip of the month.

- Final thought.
---
My Cheap Wedding Facebook Page
Well it was a long time coming, but we have managed to get our Facebook page launched as of last week.

Take a look here and get involved. Tell us what you want to see included and feel free to ask any questions you want.
---
Latest articles on my-cheap-wedding.co.uk

Wedding Finger Food.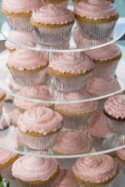 Be honest, when you think of finger food do you think of sausage rolls and sandwiches? Most people do.

However, with a little thought it's possible to create finger food that looks fab, while still costing a fraction of a traditional wedding breakfast.

However as with anything wedding related there are a few things that can make or break it. Find out more here...
---
Tip of the month.
Get involved. If you've got a question, just ask what other brides are doing! Make the most of your contacts, ask your friends on your own Facebook page or our Facebook page to see what other brides are doing or have done in the past to bring their weddings in on budget.

People generally like to talk about their weddings so if you've got a question don't be shy, just ask.

What's the worst that can happen? You might not get an answer! But if you ask it on our facebook page I'll do my best to answer it for you even if no one else will. But you might be pleasantly surprised and get lots of answers.

Why not give it a go now?
---
Final Thought
Don't go mad buying all the wedding magazines you can.

I know it's really tempting as they call to you each time you walk past them in the newsagents. Each time you're tempted, try to focus on the cost.

If you were to buy 2-3 wedding magazines per fortnight, (which is quite easy to do) over the space of 12 months you could easily spend around £360.00. Just think what that could buy you?

Until next time...


P.S. Why not send this to a friend who is getting married, you might just save them a fortune!

If this was sent to you by a friend and you enjoyed it, then click here to see how to go about signing up for more copies of my FREE money saving e-zine and get a complementary wedding planner.