Your Free UK Wedding Checklist.
Welcome to the latest issue of "Cheap Wedding Gems".
This e-zine will keep you up to date with all my latest tips and money saving ideas for your perfect cheap wedding day.
Don't forget to check out the "my-cheap-wedding" facebook page.
If you enjoy this e-zine and know someone who is getting married please forward a copy to them so that they can benefit from the various articles.
If this e-zine was forwarded to you by a friend and you would like to see more then please follow this link to see how you can sign up for future issues (don't worry it's completely FREE).
---
Contents:
- Your Free UK Wedding Checklist Now you'll know what needs to be done when.

- Latest articles on my-cheap-wedding.

- Tip of the month.

- Final thought.
---
Have you checked out our free UK wedding planner?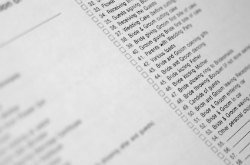 As you'll already know planning a wedding can get out of control very quickly.

So I've listed a UK wedding checklist (95% of it will also apply to those of you outside the UK). It'll show you what you should have arranged by what date and what needs to be done next.

As always I'm easy to get in touch with, so if there's something you think has been missed or needs to be altered or amended just get in touch and let me know.
---
Latest articles on my-cheap-wedding.co.uk

Wedding Music Ideas.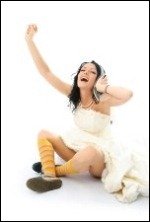 Coming up with Ideas for your wedding music isn't always as straight forward as you may think. There are different methods of providing music and each has its own plus and minus points, not to mention some will involve more work on your behalf but will be cheaper because of it.

Check out the article and let us know what you think by using the comments form at the bottom of the page (these comment boxes are on all the other pages on the site as well, so let us know what you think!)...
---
Tip of the month.
Consider your wedding photos carefully :
I'm a great believer in getting stuff for as little as possible and I also believe in getting friends and family to do as much as you can; and the wedding pictures are no exception.
We got my husband's cousin to take pictures for us at our wedding and they turned out great. However I'm well aware there are some friends and family out there who may think they're great at taking pictures but may not be quite as good as they make out!
Your wedding pictures are something you'll treasure for the rest of your life, so think very carefully before you make your final decision on who to use for your wedding photography. If you're not going for a professional photographer and decide to use a friend or family member, have a discussion with them before you confirm anything. It's very easy for them to get sucked in and agree to take your pictures without thinking it through.
Then in the cold light of day they may have second thoughts about what if the pictures don't turn out well and what will happen to our friendship etc.
Basically what I'm saying is make sure they're happy to take your pictures and confident in their own abilities. Always have a look at other pictures they've taken and make sure you're happy with them.
---
Final Thought
I've seen some of the plans for Kim Kardashian's wedding (supposedly costing $20 million) and I'm not impressed.

It all sounds a little vulgar to me, as if they're doing it to be seen, rather than for themselves. So relax in the knowledge that your wedding isn't for show, or for anyone else and will be on budget, beautiful and just how YOU want it.

Until next month...


P.S. Why not send this to a friend who is getting married, you might just save them a fortune!

If this was sent to you by a friend and you enjoyed it, then click here to see how to go about signing up for more copies of my FREE money saving e-zine and get a complementary wedding planner.