Cheap Wedding Photography.
Welcome to the latest issue of "Cheap Wedding Gems".
This e-zine will keep you up to date with all my latest tips and money saving ideas for your perfect cheap wedding day.
Don't forget to check out the "my-cheap-wedding" facebook page.
If you enjoy this e-zine and know someone who is getting married please forward a copy to them so that they can benefit from the various articles.
If this e-zine was forwarded to you by a friend and you would like to see more then please follow this link to see how you can sign up for future issues (don't worry it's completely FREE).
---
Contents:
- Cheap Wedding Photography Now you'll know if it's really possible to get cheap wedding photos.

- Latest articles on my-cheap-wedding.

- Tip of the month.

- Final thought.
---
Cheap Wedding Photography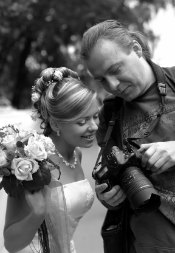 I've recently been accused by a few "professional" wedding photographers of misleading brides that they can get great wedding photographs without using a professional.

So I thought I'd put the record straight once and for all. While I accept professional photographers will never be happy with me recommending alternatives they did raise a few valid points such as the risk of getting poor quality pictures that cannot be corrected etc. Although I feel I have pointed this out in the article.

Have a look at my article on cheap wedding photographers and you'll see what I mean. Please don't assume using a non-professional will always work out perfectly. It does have risks but there are ways of minimising those risks.

It also depends on how you prioritise your budget. If you have several items which you can't live without and you're over your budget then something will have to give! Perhaps your perfect dress or having a honeymoon on a beach is less important than your professional wedding photos or maybe not!

Either way you will have to make a decision and something will have to be compromised. Only you will be able to decide which, but if you do decide to save money on your photos then my article will hopefully show you how you can reduce your photography costs while also minimising the risks.
---
Latest articles on my-cheap-wedding.co.uk

Wedding Reception Songs.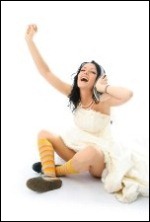 Coming up with wedding reception music isn't as simple as plugging in your iPod and hitting play.

You'll have to consider more than just your own personal music tastes.

Check out the article and let us know what you think by using the comments form at the bottom of the page (these comment boxes are on all the other pages on the site as well, so let us know what you think!)...
---
Tip of the month.
Free Wedding Photography:
In follow up to the above wedding photography section I thought this would be a good point to mention one of the latest additions to our wedding directory photography section.
Laura recently contacted me to let me know that she is currently trying to establish herself as a professional wedding photographer but as she has limited wedding experience she's offering free wedding photographs in the Nottinghamshire/Derbyshire areas to a limited number of brides.
Check out her listing and get in touch with her via the contact box at the bottom of her page if you think it would be of interest to you or anyone you know.
---
Final Thought
As the nights get longer and the evenings colder it gets harder to motivate yourself so make sure you take the occasional evening off from your wedding planning and enjoy yourself.

You'll feel refreshed and ready to go again tomorrow.

Until next month...


P.S. Why not send this to a friend who is getting married, you might just save them a fortune!

If this was sent to you by a friend and you enjoyed it, then click here to see how to go about signing up for more copies of my FREE money saving e-zine and get a complementary wedding planner.