Unique Wedding Ring Sets
Welcome to the latest issue of "Cheap Wedding Gems".
This e-zine will keep you up to date with all my latest tips and money saving ideas for your perfect cheap wedding day.
Don't forget to check out the "my-cheap-wedding" facebook page.
If you enjoy this e-zine and know someone who is getting married please forward a copy to them so that they can benefit from the various articles.
If this e-zine was forwarded to you by a friend and you would like to see more then please follow this link to see how you can sign up for future issues (don't worry it's completely FREE).
---
Contents:
- Cheap and unique wedding ring sets- Now anyone can have unique wedding rings!

- Latest articles on my-cheap-wedding.

- Tip of the month.

- Final thought.
---
Unique Wedding Ring Sets
Although we'd all like cheap wedding rings, the selection on the high street is often somewhat lacking when you are restricted to the more affordable ranges.

Things tend to get worse if you want a unique wedding ring to sit against an unusual engagement ring or even if you just want something a little different... Or at least that used to be the case.

I've recently had the pleasure of spending 5hrs at a fantastic little jewellery designers in Belfast called The Wedding Ring Studio at Ember Jewellery.

The owner, Cyril Flannigan, has designed jewellery for lots of celebs like Ozzy Ozbourne, Tina Turner and many others (although I had to push him hard to get him to provide this information). He is a quiet unassuming guy with huge talent and a flare for jewellery design.

He can create your unique wedding rings from whatever metal you like from silver or gold to platinum and palladium. What's more if you have some old rings you don't wear anymore he will melt them down and use the metal to make your wedding ring (saving you even more money).

Follow the link in the next section to get more information.
---
Latest articles on my-cheap-wedding.co.uk

Silver Wedding Ring Sets.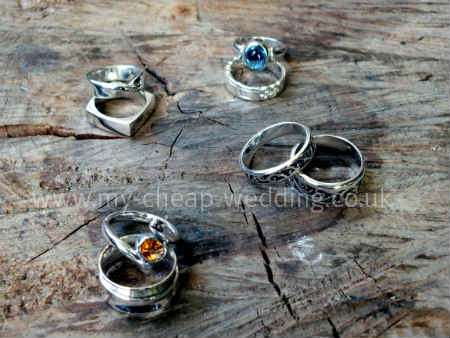 Going for silver rings is one of the cheapest ways of getting your wedding rings at an affordable price.

You could choose basic plain silver wedding rings for less than £50 or you could spend a little more and get bespoke sterling silver wedding rings that are totally unique to you. What's more you could even make them yourself if you know where to go!

Check out my article on cheap silver wedding ring sets for more information.
---
Tip of the month.
Consider the layout of your venue and the guests you're inviting.

For example, is your reception being held in one big square or rectangular room? If so are your older guests likely to find the music too loud? If so you may find that they start to disappear early.

Alternatively if your reception has several rooms or a separate bar area you run the risk of losing all your older guests as soon as the music starts.

It's a bit of a balancing act, but if you plan early you should be able to minimise your "guest drift".
---
Final Thought
You should always shop clever when looking for wedding rings.

If your budget is very tight you might want to consider silver wedding rings, they look just like white gold or platinum but only cost a fraction of the price.

Meaning you could spend a little more and get them custom made to your own unique design.

Until next time...


P.S. Why not send this to a friend who is getting married, you might just save them a fortune!

If this was sent to you by a friend and you enjoyed it, then click here to see how to go about signing up for more copies of my FREE money saving e-zine and get a complementary wedding planner.