Silver Wedding Ring Sets
Don't Have to Look Cheap

Silver wedding ring sets are great if you can't afford, or just don't want to spend a lot on your wedding rings? What's more, you can even go for bespoke one of a kind silver wedding rings without breaking the bank.

People will tell you that you can't have a silver wedding ring as they're too soft! If I'm being honest, I was one of those people until recently when I had the good fortune of meeting with a jewellery designer. He opened my eyes to a fabulous new world of beautiful, one of a kind and, more to the point, affordable wedding rings.

I like to think that I'm pretty clued in when it comes to all things wedding and especially wedding rings and jewellery. So I'm sure you'll understand just how excited I was to discover a new way of saving money on wedding rings! Although I had heard of silver wedding rings, I just wasn't aware of how versatile and reasonably priced the beautiful one off designs can be.

I also appreciate that there will be sceptics out there who, no matter what I say, will still be of the opinion that silver wedding rings are a non-starter. To them I'd say, don't knock it until you've tried it. I was that person and now that I've tried it, I'm a convert!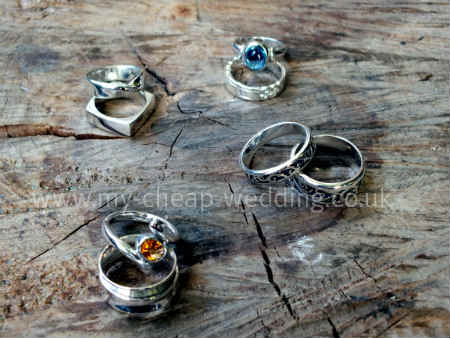 Are Silver Wedding Rings Soft?
Silver is a slightly softer metal compared to gold, platinum, palladium etc. and it's true that you'll need to take a little more care of your rings as they'll mark easier than the other metals. But they are also a fraction of the cost of the other metals, making them much cheaper to buy and repair.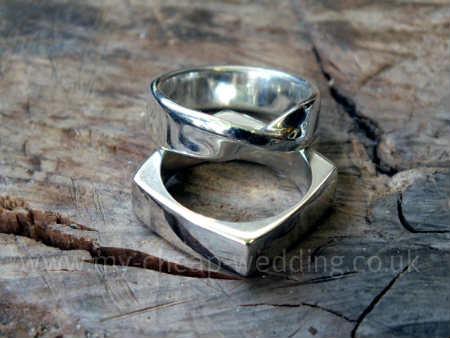 Cost of Silver Wedding Ring Sets:
Silver wedding ring sets are available from as little as £40 to £50 for plain designs up to a few hundred pounds for silver wedding rings with diamonds. Silver cubic zirconia wedding rings are another option you might want to consider if you want the look of diamonds without the price tag.
For less than the cost of a single platinum wedding ring, you could have a custom designed silver wedding ring set made up for you by a jewellery designer or silversmith.

I was so intrigued by this concept that I went along to "The Wedding Ring Studio" at Ember Jewellery in Belfast to see what designer and owner Cyril Flannigan is capable of creating. Cyril can make you anything from plain wedding bands to one-of-a-kind bespoke wedding rings, in a range of precious metals either with or without precious or semi-precious stones.
If you want a hands-on role in creating your wedding rings, you and your betrothed can hire his wedding ring studio for a few hours and make your own wedding rings, under his supervision. I recently spent a day there and found it really satisfying to see a design sketched on paper turned into a beautiful ring. There's something very romantic about knowing that you have had a hand in making your own wedding rings.

I've added a few images of some of Ember Jewellery's rings above and below. These show a small sample of what you could create and let you see that it's possible to create a one-off silver wedding ring set that's totally unique to you for a few hundred pounds.

Benefits of Silver Wedding Rings:
Much cheaper than other precious metals.


Easier to work with so creating bespoke one-off designs is easier for the designer and therefore cheaper for you.


Silver suits all skin tones.


Silver works well with modern chunky styles as well as fine styles.


Stone settings work well with silver wedding rings provided the setting is appropriate to the ring design (sterling silver wedding rings or engagement rings will need a chunkier setting in order to secure the stone).

Disadvantages of Silver Wedding Rings:
Silver is a relatively soft metal (but not significantly softer than 18 or 24 carat gold).


It will mark quicker than the harder metals.


Fine wedding ring designs will need a chunky setting to ensure stones are safe.

---
While I accept silver wedding ring sets may not be for everyone they do fill a very important gap in the market and having seen what can be done first hand, I've got to say that I'm a complete convert.

For as little as £100 (depending on design and whether you want precious or semi-precious stones) you could have two wedding rings that look just as good as more expensive wedding rings.

If I had it all to do again I would definitely be looking at sterling silver wedding ring sets!

Return from Sterling Silver Wedding Ring Sets to Cheap Wedding Rings.