The Wedding Ring Studio at Ember Jewellery in Belfast
Ember Jewellery & The Wedding Ring Studio

Address: 1st Floor 37-39 Queen Street, Belfast, BT1 6EA

Tel: 07975839454

Email: info(at)Emberjewellery(dot)com (or use the contact me form at the bottom of this page).
View Larger Map
---
Hi, I'm Cyril Flannigan, welcome to my listing for The Wedding Ring Studio which is located at Ember Jewellery in the heart of Belfast city centre and within easy walking distance of the shops.

I specialise in providing all types of jewellery from affordable and unique sterling silver wedding ring sets to wedding rings in gold, platinum, palladium etc. (In fact any metal you want we can usually source). I also have my own unique range of wedding jewellery collection including necklaces and bracelets etc.

The wedding ring studio within Ember Jewellery is all about making wedding ring design affordable, beautiful and unique as I want to be able to keep unique wedding rings within the reach of everyone.

Exchanging your wedding rings with each other on your wedding day will be a moment you'll never forget for the rest of your lives together. I also believe it should be a very personal experience and what better way to do that than to make your own wedding rings and that is why I created the Wedding Ring Studio.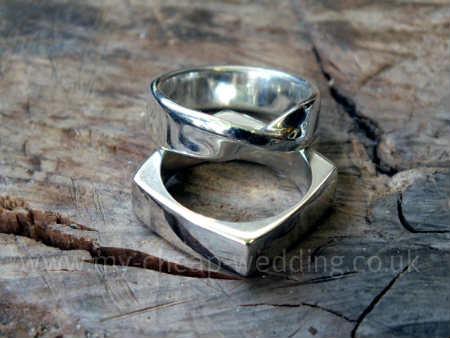 So What Do You Get?
At the initial design consultation we'll discuss the design you're looking for, (this consultation stage can be performed by telephone or email if you're not convenient to Belfast). You'll then come back for your studio day where you'll spend around 5 hours in the studio making your own wedding rings from scratch (under my supervision of course).

You'll prepare the metal, cast the rings (if necessary), shape them, solder them, size them etc. etc. finishing off by cleaning and polishing and when done they will be sent to be hallmarked and then either collected at the studio or sent out to your home address ready for your big day.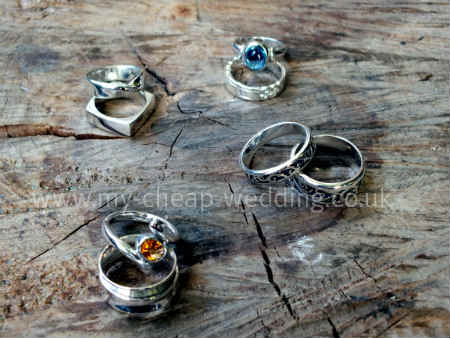 Costs:
The cost of the Wedding Ring Studio experience is £250 and for this you get:
An initial design consultation.
The use of the design studio on the day (usually around 5 hrs.)
Lunch in Belfast.
Two Ember Jewellery aprons.
A certificate.
A DVD of your day.

*Please note the £250 does not include the cost of your wedding rings, this will be discussed and agreed with each couple individually and will be dependent on your design and metal choice etc.
For those of you looking for even cheaper wedding rings we have several ways of reducing the cost:
You could make a simple yet unique wedding ring set in sterling silver with some small design features to make them that little bit more personal.


If you have old jewellery that you don't wear any more we can melt it down and use it to create your unique wedding rings. Meaning you don't have to pay for the metal to make your wedding rings.


If you're on a very tight budget we can make up your wedding ring design for you and send your rings out to you. That way you can avoid the wedding ring studio costs.


We also offer a number of wedding ring designs that are available from our online shop.


Consider silver cubic zirconia wedding rings for that expensive look but without the big price tag.
Rest assured, there are ways of reducing the cost of your wedding rings and we're more than happy to try and facilitate all budgets.
My Credentials:
I studied at Kent Institute of Art and Design in Canterbury where I studied under some of the leading silversmiths and jewellery designers in the world. I have won the "Small Worker's Silver Bursary Award" from the Worshipful Company of Goldsmiths in London along with a few other awards.

I've also had the pleasure of working on pieces for the Sultan of Brunei, The Archbishop of Canterbury and even 10 Downing Street. I've also made jewellery for Tina Turner, Ozzy Osbourne, Lemmy from Motor Head, Dolores from the Cranberries, ZZ Top, Uriah Heap, and Matt and Luke Goss.

I love to work in Silver, Gold, Platinum and Palladium and really enjoy taking on unusual designs. I've attached a few pictures of some of my recent work including Celtic knot wedding rings, square designs and some rings with precious and semi-precious stones.

So if you have an idea for a design that you really like but don't want to spend a fortune, use the form below to get in touch and I'll get back to you by return.

Return from The Wedding Ring Studio page to the Directory Search page