Cheap Wedding Invitations
Cheap wedding invitations are great, but the last thing you want is for them to look cheap and the good news is that even budget wedding invitations can look more expensive than they actually are. The key is to keep your design simple and elegant.
Cheap wedding invitations can still look more expensive than they actually are. The key is to go for simple, elegant design.
As with all aspects of your wedding it is easy to get carried away and over complicate things. This is usually a mistake, by keeping it simple you have less to go wrong (using intricate patterns or multi-layer designs looks great if done correctly but they can look very cheap and nasty if done poorly and it's way too easy to do them poorly).
Another downside of having very intricate designs is that they will cost a lot more money and time. Be assured that making your own cards will take much more time than you think and it will be more complicated than you think. So consider carefully what time you have available before going down the DIY wedding invitation route.
Know how much you have to spend on your invites before deciding on the method of creating or buying your cheap wedding invitations.
Spend a little time looking through magazines and try to narrow your ideas down to a few wedding invitation designs. Or come up with your own.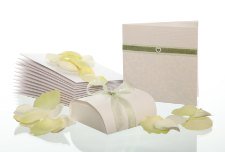 Once you've established your budget you can either:
Make them yourself - DIY cheap wedding invites are great if you're the creative type and can spare sufficient time to make them (making them WILL take longer than you think). However if they're done well they can give the look of designer stationery without the designer price tag, plus they'll have that "personal" touch.

If your budget is really tight you could always go down the route of very cheap wedding invites and save even more money.


Buy them online - you can either buy them with spaces for you to fill out the relevant details by hand or get them printed online with all your details included. This second method is often referred to as seal and send wedding invitations.


Get them professionally printed - you can get wedding invitations printed locally if you know where to go and what to ask for.
Within the above choices you then have an infinite choice of styles and I have chosen a few of my favourites below.
Regardless of what style you decide to go for there are a few rules that apply to all the above cheap wedding invitations;
Finally some other considerations for wedding stationery are;
Keep the style of font the same – mixing fonts will make your wedding invites difficult to read. Very ornate script fonts can also be difficult to read.
Keep the size of the font constant in order to make it easy to read. Preview your font regularly and check how it looks. Is it easy to read all the words? Bear in mind it can also be too large!
As I have said above preview and proof read your cheap wedding invitation text a minimum of three times and then give it to someone else to proof read. The last thing you want is a mistake! I find reading it backwards helps spot mistakes (start at the last word and read each word from right to left).
If you follow my articles there's no reason why your perfect cheap wedding invitations and wedding stationery need to be a chore. Leaving you free to focus on the wedding invitation etiquette.
Return from Cheap Wedding Invitations to the home page.