Bridal Party Requirements
Some brides only pay lip service to the bridal party at the early stages of the planning process, however you should do this at your peril.
Not only will they affect how your pictures look, but they also play a key role in keeping you sane during the lead-up to the big day and during your wedding day itself. They help the day run smoothly by taking on many of the major jobs, none more so than the best man and maid/matron of honour.
Although originally the bridesmaids were there to divert evil spirits away from the bride by dressing like her, today it's a chance for you to share the biggest day of your life with some of your closest friends and family.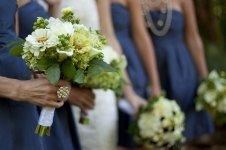 Your first step should be to choose who you want to fill each role.
I'm guessing you'll already have a good idea of who you want for each job. You might, at this initial stage, even want to consider how your bridesmaids will look together for the photographs, but friendships should take priority.
The same is true for your other half when choosing the best man. Ideally he would be able to consider those friends who are comfortable making speeches. But in my experience the speech in only a small part of the day and it's often more successful when it's delivered by someone who is a close friend or family member who knows the groom (and lots of stories about him) very well.
The most important thing is that you have your nearest and dearest there with you on your big day.
The Ladies:
Once the relevant people have been chosen, you'll need to decide on what they're going to wear. Cheap bridesmaid dresses should complement the bride's dress and yet suit the bridesmaids' body shape and colouring.


Shoes can be used to even out their heights (for the pictures) and should be appropriate for the locality (grass, beaches etc.) while remaining comfortable.


Jewellery and accessories should match the bridesmaids' features and dresses without overshadowing yours. You could even give the jewellery to them as bridal party gifts to say thank you for all their help.

The Men:
For the men in the bridal party you'll need to decide on what type of suits they'll wear, for example, morning suits, buying matching suits off the peg or just wearing their own.

If you go for matching suits you'll need to make sure the shoes, socks, shirts, and ties etc. all match as well. The beauty of letting them wear their own different suits is that they can wear their own shoes etc. as well and therefore reduce your costs.

However, if you're letting them wear their own choices you should make sure you vet and approve their choices beforehand.

Finally you'll also need to decide on whether or not you're going to give bridal party gifts which can be a bit of a minefield in itself.
Return from The Bridal Party to the home page.