Choosing The Perfect
Wedding Party Gifts.
Wedding party gifts are a traditional part of the day and one that most of us want to follow. After all, these are some of your closest friends who have been there for you over the last few months helping you sort out problems and holding your hand when you needed it!
Bridesmaid gifts or groomsmen gifts are a way of showing your appreciation for all their help leading up to your wedding day and all the effort and hard work they put in on the day itself.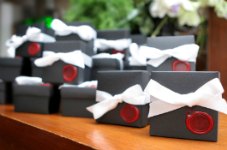 You should try to come up with something which is unique and personal. Something they will look at for years to come and instantly remember your big day and how happy it was.
Now you don't have to tell me that choosing unique gifts that don't cost the earth isn't the easiest job in the world. But, if you give yourself plenty of time and follow these simple steps you will be able to come up with something that is both memorable and affordable.
Wedding Party Gifts For The Ladies
For your bridesmaids, jewellery is a fairly safe bet. My top tip is to give your bridesmaids the jewellery you have bought them to wear on the day, as their present. That way you already know they like it and it will be memorable for years to come. Jewellery is something they will wear again and again so it makes an ideal present.
For The Men
The groomsmen can be a little more difficult. The more common presents include cuff links, tie clip, money clip or a pen. Any of these can be personalised (e.g. by engraving), however a decent pen can be expensive and cuff links (if you go for the traditional silver) aren't exactly cheap either.

One option is to play on men's love of all things wacky or funny and buy novelty cufflinks for all the men in the wedding party (this can also make a fun photo opportunity with them all showing off their cuff-links). The novelty ones are cheaper and, if chosen well, can hint at an in joke between the groom and his best friends.
These options are all very personal - all I am trying to do is get you thinking outside the box a little.
Perhaps you are feeling very creative and want to have a go at creating one off cufflinks etc.
No matter what you choose for the wedding party gifts there are some simple rules you should consider:
Spend accordingly - If the bridal party have spent a lot on preparing for your wedding (perhaps the bridesmaids paid for their own dresses or the groomsmen paid for the suits). Then you should really consider buying them something special. But, if you paid for everything, then a token gift is fine.
What would they like? - Most brides and the groom will know their bridal party well. So it is likely you will know their tastes and you should be able to come up with something you know they will like. If you have borrowed jewellery in the past you know you have similar taste. If not do a little research, speak to their mums, brothers, sisters etc and find out the sort of things they like.
Choose something practical - You should choose something that they will want to use and cherish. If it's not practical they will put it in the bottom of a drawer and forget all about it.
Mix and match - Don't feel you have to get the same gift for all the bridesmaids or for the men. If the presents are all different it looks as if you have put more effort into finding the perfect individual gift for each of them. Which in turn will make each of them feel more appreciated and they will then cherish the gift more (everyone wins).
Finally, don't panic, your friends are there because they want to share your big day with you and not to get a gift. So whatever you get them they will love it as it shows that you appreciate them, and wedding party gifts are a perfect way of doing that.
Return from Wedding Party Gifts to Bridal Party.

Return to the home page.