Songs For a Wedding
How To Get it Right
When it comes to choosing songs for a wedding, especially your wedding, there are several things you need to establish before you start writing down song names.
For example, what do you expect from your wedding songs? - Do you want funny wedding songs to reflect your sense of humour, or serious wedding songs to show how much you love each other? Maybe you want a combination, such as a romantic song or music to walk down the aisle to and then a funny first dance song or funny songs throughout the night.
The options for wedding music is vast and there's no right or wrong choice as what's right for your wedding will be wrong for someone else's.
For this reason in this section of articles I'll look at the various types of songs/music available to you and give you some examples of my favourites. Then you can cherry pick the ones you like and dismiss the ones you don't.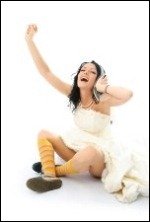 Choosing Songs For a Wedding - The Options:
Popular wedding reception music - This is the type of music that appeals to the masses (when attending a wedding) and is often also referred to as traditional wedding songs. It includes the songs that most of your guests will probably think of when they think "wedding music". You may want to choose all your music from this section or mix and match it with music from the other sections.


Classical wedding music - classical wedding songs can be hauntingly beautiful as entrance music or music to be played while you sign the register.


Love songs for weddings - these are a wedding staple, it's the one chance you both get to let all your friends and family see just how in love you are and I have yet to go to a wedding where a love song wasn't played at some point.


Wedding Entrance Music - in my opinion this is the most important piece of music of the day (although some will say it's your first dance song). But your groom and guests haven't seen you in your dress and fully made up so there's a heck of a lot of anticipation as you walk into the service.

So it's important to get it right, you your groom and guests to look at you as you walk in and be blown away, and the music sets the scene.


Wedding first dance music - as mentioned above this is definitely one of the two most anticipated songs of the day (some say the most). It needs to say something about you both and the way you feel about each other.

You may also want to choose a song that says something about your personalities. It doesn't have to be traditional or serious, if you want to have fun with it you can.


Funny wedding songs - perhaps you're both fun loving and outgoing and want to have funny wedding songs to reflect that side of your personality. You may want to have a few funny songs spread throughout the reception party or maybe you want to have a funny first dance (these can be a great way of setting the tone for the rest of the night).


Celtic wedding music - maybe you have Irish roots, are having an Irish themed wedding or perhaps you just like Celtic music. Whatever your reason, there are lots of traditional Celtic songs (and some less traditional ones) to choose from.
I'll bet you never realised there was so many things to consider when choosing songs for a wedding? Well, don't worry all you need to do is take each aspect of your day and start building up your wedding song lists.
If you're still struggling I've put up a few wedding music samples here so you can simply click on them to hear a sample.

Return from Choosing Songs For A Wedding to the home page.