Cheap Wedding Plans Must be Thought Through Carefully.
Drawing up your cheap wedding plans is essential if you want to avoid overspending or (heaven forbid) forgetting something.
So getting a plan together should be one of the very first things you do after getting engaged (and celebrating of course).
There a lot of individual items to consider when setting out your cheap wedding plans, but at this stage we will begin by taking a general overview to establish what your total budget is likely to be. Then we'll fine-tune it into an accurate detailed budget and finally we will look at setting out a list of everything you will need to do between now and your wedding day.

The steps to getting your cheap wedding plan organised are as follows:
Set Your Initial Wedding budget

Take some time to yourselves, sit down and decide how much you can afford. Try to be realistic and consider how much you can afford to set aside each month between now and the wedding.
Jeremy and I found that by listing all our monthly outgoings on a sheet of paper we were able to cut the non essential items without any hardship and put that money into a wedding fund. For example we cut around £20 per month off our satelite subscription by switching off the chanels we hardly ever watched.
We also got more organized with our weekly shopping. We made a list and ordered online that way we weren't tempted to put things in our trolly as we saw them.
By cutting non essential items and generally not wasting money we quickly saw a saving of £120/month. Plus we were able to set aside a bit more from our wages.
Once you've established how much you have to spend you will be able to consider the big items such as the number of guests, catering and venue. So if you have a budget of say £4,000 you will be in a better position to decide how may guests you can afford to have and which venue you can afford. What I am trying to say is, if you want 150 guests and feed them a four course meal in a fancy hotel, you will have major problems if your initial budget is £4,000.
The Detailed Budget
Once you know how much you can afford to save you can move on to your detailed budget. At this stage you will start looking at the individual aspects of your wedding. Which you want to include and which you can do without.
We all differ at this point as you might want a more expensive dress and do without the professional photographer . Wheras I was happy to spend a little less on the wedding rings so that I could spend more on my dress.
This stage allows you to prioritise individual items that you may want to spend a little more on, and items that you don't mind scrimping on. Remember you don't have to have all the wedding ideas listed in the magazines to have your perfect wedding.
The Wedding Checklist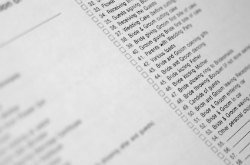 A wedding checklist is another great way of making sure you don't forget to do something. When you have one hundred different things whizzing around inside your head it's easy to forget to do something)
So I have prepared this FREE wedding checklist for you and all my UK (and worldwide) readers to use. That way you don't have to try and figure it all out for yourself. It lets you see what needs done and when you need to do it.
Hopefully these articles will help you avoid the pitfalls normally associated with preparing your cheap wedding plans and budget.
Get your FREE copy of my wedding planner:
It includes tools to help you plan your budget, seating, track invitations, meal choices, presents and much more. It will significantly reduce your work load and all the tools are really easy to use.
Simply subscribe to my FREE monthly "cheap wedding ezine" which automatically sends all my latest money saving tips and articles directly to your inbox (I will never spam you or sell your details to anyone else).
Fill out the form below and you could be working on your wedding planner within minutes.
Return from Cheap Wedding Plans to the home page.