Cheap wedding Cakes
Most wedding cake suppliers would like you to think cheap wedding cakes are a sub-standard option and not worth considering, but that simply isn't true.
Most wedding cake suppliers would like you to think cheap wedding cakes are a sub-standard option and not worth considering, but that simply isn't true.
Don't get me wrong there are local wedding cake specialists who are really talented and they will be able to create intricate designs than you could as an amateur, but you will have to pay for the privilege.
While the designer cakes seem to be getting more and more expensive you should at least consider the following information if you are trying to achieve the perfect wedding cake on a tighter budget.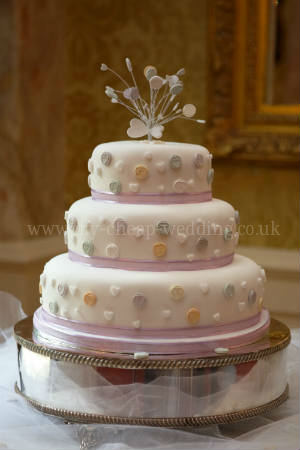 Your wedding cake is really important to get right as it is (apparently) the second most photographed subject (no prizes for guessing who's first!). It also acts as a focal point during the reception and everyone will have a good view of it during the meal, so you need to get it right.
Affordable wedding cake ideas:

Below are some aspects of wedding cake creation and decorating that I will cover in more detail in the associated articles. Just click on the individual links to go to the relevant pages:

Make it yourself - are you or a family member or friend a good cook? If so then this is a viable option, but not one to be entered lightly as simply making the cake can be difficult enough, not to mention icing and decorating it (which is more difficult than it looks).

Get your cake size and design right - Once you decide to make your own wedding cake or buy the tiers on the high street you'll need to make sure you get the design and size right. Afetr all there's no point in making enough for 70 if you've only got 50 guests coming.
Wedding cake recipes - there are lots of wedding cake recipes out there but this one's my favourite as it's the recipe we used for our cake and it was really good.
Cake decorations - these are harder than you think but it's worth persevering as you will end up with a beautiful one off design that is unique to your wedding day.

Cake toppers - These are a fun way of linking your theme, personalities or hobbies to your wedding cake. If chosen well they provide a fabulous talking point for your guests and they look great.

Use a fake cake - many brides go down this route as a means of saving money. If for example you are having a three tier cake, you could create a polystyrene "cake" and ice it for one or more of the layers. Then when the cake is taken away for cutting it is substituted with a simple square cake with plain icing. When cut no-one will know the difference.
Buy a simple cake on the high street – then decorate it simply at home with ribbon, fresh or sugar flowers and/or a cake topper. Or have it decorated by a professional (this will obviously be more expensive). If you decide you want to get a professional to decorate it, get prices before committing yourself.
Use a local commercial bakery - these are often cheaper than the specialist cake decorators.
Choose an alternative cake type - sponge cake, chocolate cake or carrot cake can be cheaper than traditional fruit cake. Plus it will allow you to cater for guests who don't like fruit cake (my husband) or have food allergies.

Use individual cupcakes- more and more brides are going for individual cupcakes, carrot cakes or profiteroles on a tiered cake stand. That way everyone gets an individual cake and this can also double as a dessert (which will save you money on the catering bill).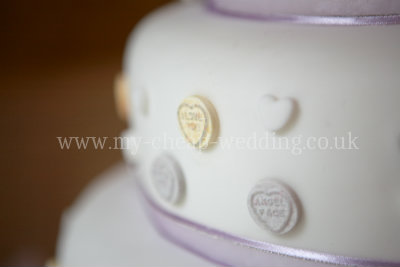 If you decide to get your cheap wedding cake from a cake designer there are some things you should consider before you talk to them.
You will need to order your cake early (around 6 months before the wedding day), even a cheap wedding cake has to mature (which can take up to 3 months). Sponge cakes can however be prepared much closer to the date of the wedding. So consider your timeline.
You should know how many guests you're inviting before ordering the cake as more guests means more cake and that means more money.
Also consider whether or not you want to keep some extra cake for the guests who can't attend and also consider if you want to keep the top tier of cake for your first anniversary or your first child's christening. If so, you'll need to allow extra.
Once you know the size of cake you need, you'll have to look for a cake maker or as mentioned above, a commercial baker (often a cheaper option). As with everything else, get three quotes and make sure they are quoting for the same things.
Traditionally the colour of your wedding cake would have been white but nowadays anything goes and you may want to match the cake icing to the bridesmaid's dresses or your overall theme.
You'll also need to decide on how you're going to decorate your cake. For example, sugar flowers, real flowers, jewels, ribbons or just plain.
(Top tip, if your dress is ivory don't choose a white cake, it will make your dress look as if it's dirty when you stand next to it).
The options are endless and (via the links above) I'll show you how to design and make your own cheap wedding cakes. I'll give you some tried and tested recipes and cheap wedding cake ideas, along with a few tips on choosing the cake topper.
Tell us about your tips for saving money on the cake!
If you have a great wedding cake story, Share it!
Return from Cheap Wedding Cakes to My Cheap Wedding home page.