Wedding Cake Designs
There are literally thousands of different wedding cake designs and you are only restricted by your imagination and while some intricate wedding cakes can look fabulous the good ones tend to cost a fortune.
I'm sure you already have many wedding cake ideas in your head and maybe an idea of what your perfect wedding cake looks like. You'll probably also have looked at lots of wedding magazines to see the cake designs others have used.
The most important aspects when designing your wedding cake on a budget are the size and decoration. For obvious reasons the more guests you're having the larger the cake you'll need and the more intricate the decorations. Both of these factors can have a markable impact on the cost of your wedding cake.
Cake Size:

As a very rough guide, the following can be used to estimate the size of cake you will require:
Two tiers of 8" & 10" will serve up to 30 guests.
Three tiers of 8", 12" & 16" will serve up to 100 guests.
Four tiers of 6", 8", 10" & 14" will serve up to 120 guests.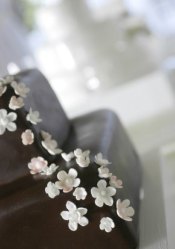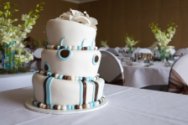 Decorations:
Whether you're making the cake yourself or having it made for you, don't rule out simple, elegant designs. Often less really is more and it'll certainly be cheaper than an overly fussy or intricately decorated cake.
A easy way of lifting a simple cake is to use different colours, such as chocolate icing on a sponge cake (cheaper to make than a traditional fruit cake) or coloured icing to match your bridal party.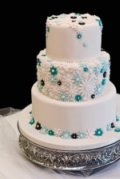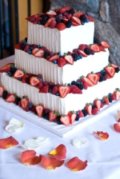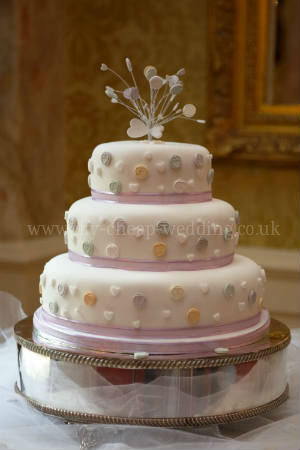 The pictures above show how simply decorated cakes can look really good and any of these could be produced at home with a little care and some imagination.
Some well placed natural or sugar flowers (available pre-made online), a few imitation pearl necklaces, or ribbon can transform a humble sponge cake into a unique wedding cake.
With so many cake designs out there, by following my tips you can achieve your perfect wedding cake without blowing your budget.You can also use other items to lift your wedding cake design such as cake toppers or flowers. Your could even save more money by making your own cake yourself, here's a great recipe that we used for our wedding cake.

Return from Wedding Cake Designs to Cheap Wedding Cakes.