Great Wedding Cake Recipes
There are literally hundreds of wedding cake recipes available online so you should have no difficulty finding one to suit your tastes.
One of the first things to do first is speak to your friends and family who are already married and ask them if they can recommend any wedding cake recipes or if you've been to a wedding where the cake was particularly good, see if you can get a copy of that recipe.
The recipe below is the one we used for our cake, we got it off a friend who has cooked it several times before and it tasted fantastic (it's a Delia Smith recipe ).
I've provided the link to this, as on her website she shows how to up scale the ingredients for the various size tins you'll need to create the different tiers.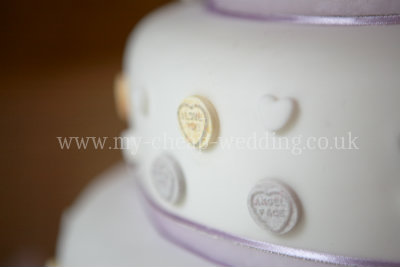 Ingredients
For a 9 inch (23 cm) round or 8 inch (20 cm) square cake

Currants - 1¼ lb. (575 g)
sultanas - 8 oz. (225 g)
raisins - 8 oz. (225 g)
glacé cherries, rinsed and finely chopped - 2 ½ oz. (60 g)
mixed peel, finely chopped - 2 ½ oz. (60 g)
brandy - 4 tablespoons
plain flour - 10 oz. (275 g)
a pinch salt - ½ level teaspoon
freshly grated nutmeg - ½ level teaspoon
mixed spice - ¾ level teaspoon
almonds, chopped (the skins can be left on) - 2 ½ oz. (60 g)
soft brown sugar - 10 oz. (275 g)
black treacle - 1 tablespoon
unsalted butter - 10 oz. (275 g)
eggs - 5 eggs
grated lemon rind - of 1 large lemon
grated orange rind - of 1 large orange

Approximate Baking Times - 4 ¾ hours
Grease the tin you're going to us and line it with greaseproof paper.
Pre-heat oven to gas mark 1, (140

º

C or 275

º

F).
The night before making your cake, you should put all the dried fruits and peel in a bowl and mix in the brandy. The cover the bowl with a cloth and set the mixture aside allowing it to soak for at least 12 hrs.
Place the treacle tin in a bowl of hot water before attempting to measure it out, that way it will melt a little and make measuring it easier.
Sieve the flour, salt and spices into a large mixing bowl, and in a separate bowl cream the butter and sugar together until the mixture is light and fluffy (this is probably the most important part of the cake, so don't cut corners).
Next, beat the eggs and then add them a tablespoon at a time to the creamed mixture, beating thoroughly after each tablespoon. If it looks as if it might start to curdle, you can prevent this by adding a little of the flour.
When all the egg has been added, fold in the flour and spices (fold, don't beat). Now stir in the fruit and peel which has been soaking, the nuts, the treacle and the grated lemon and orange rinds.
Spoon the mixture into the prepared cake tin, and spread it out evenly with the back of a spoon or spatula.
Tie a band of brown paper around the outside of the tin, and cover the top of the cake with a double square of greaseproof paper (with a hole in the middle approximately the size of a 50 pence piece.) Bake the cake on the lower shelf of the oven, check the link above for baking times for different size cakes, and don't open the door to peek at it until at least 4 hours (less for smaller cakes, check the link to Delia's site for details) have passed.
When the cake has cooled, wrap it in double greaseproof paper and store in an airtight tin. Delia likes to 'feed' it at intervals with brandy during the storage time. To do this, strip off the lining papers, make a few extra holes in the top with a thin darning needle and pour a few teaspoons of brandy in to soak into the cake. Repeat this at intervals for a week or two.
---
Another wedding cake recipe which I have been reliably informed is good is this one (it's off the BBC Good Food site).
---
I'd always advise having a trial run by making a small cake first. If you do this you can avoid the risk of making three or more tiers of your cake only to find that you don't really like the taste. To start again would be a huge waste of money and time, not to mention the hassle involved.
As mentioned in my cheap wedding cakes page, if the thought of trawling through loads of wedding cake recipes and then making it seems too daunting, don't panic. You still have the option of buying a cake on the high street and decorating it yourself (see my page on make your own wedding cake and wedding cake designs). Then all you'll have to worry about is whether or not to have cake toppers.

When choosing between wedding cake recipes don't panic, there are loads available, so just take your time and you will find the one for you.
Return from Wedding Cake Recipes to Cheap Wedding Cakes.