Cheap Wedding Cake Toppers
Wedding cake toppers are something you either want or don't want. It usually depends on your personality and the theme of your wedding day, but there are no hard and fast rules regarding cake toppers.
The two main types of toppers you will come across are traditional and amusing or funny cake toppers and within each category it is possible to find affordable cake toppers
Your wedding cake toppers can be purchased on the high street or more commonly online. The down side of buying on the high street is lack of choice (unless you're really lucky) and price. After all the high street stores have high rates and staff costs which have to be added onto the price of the goods they sell.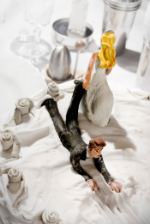 So, my advice would be to have a look online where you will be amazed at the choice and diversity available. You will even find companies who will make your cake toppers to physically look like you and your groom. The good thing is that most are made from plastic so they don't have a shelf life (unless you go for edible marzipan toppers. So you can get them ordered quickly and then forget about them.
Below I have provided details of these two more common types:
Funny cake toppers
If you're a fun loving person or the type of person who is the life and soul of the party then humorous cake toppers may well be the way to go.
You'll be spoilt for choice, with pretty much anything you can think of available including Halloween cake toppers, Scottish cake toppers, beach cake toppers, medieval cake toppers and the ever popular runaway groom cake toppers (as in the image above) and all available of the shelf.
The secret is to either choose a generic funny cake topper that will appeal to everyone and something that your guests will be able to associate with the two of you.
Maybe one that relates to a funny story involving you and your groom (that your guests know about). Or something related to your hobbies. Perhaps one of you is into diving or fishing and you could work this into the cake topper theme.

Traditional cake toppers
If you want something a little more formal you could have a traditional cake topper with the bride and groom standing beside each other. Perhaps your cake is very traditional or your entire wedding theme wouldn't lend itself to a funny cake topper.
You can even get figurine cake toppers if you want to get away from that plastic look. as in the image below. Again there are literally hundreds of options available online.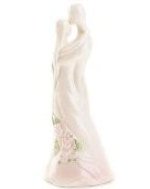 Unusual wedding cake toppers
With unusual cake toppers the sky really is the limit. You can use anything that says something about your personalities, relationship, hobbies or how you met etc.
But do try to use something that your guests will be able to relate to. Otherwise your guests will just spend the whole evening wondering "why did they choose that for the cake topper?" or worse still "what was that weird thing on top of the cake?".
Some unusual cake toppers I have come across include, a small VW camper van (the bride and groom had one which they had spent years lovingly restoring), and two miniature pairs of glasses one pink and one black, (the bride and groom were both opticians!).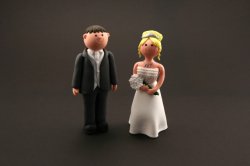 ---
This really is only a small example of what's available out there. If you can think of it there is probably a pre-made wedding cake topper out there for you to buy. If there isn't one available there are plenty of companies who will make one for you. Or you could always ask your cake maker if they could make up some simple marzipan figurines for you.
As long as it suits your personalities, anything goes. Cake toppers are a very personal thing, so have fun choosing the perfect one for your big day.
Return from Wedding Cake Toppers to Cheap Wedding Cakes.