About my-cheap-wedding
and Why I Built it

This is the story of how the my-cheap-wedding website came about.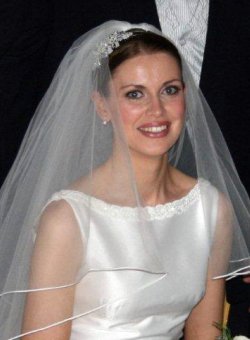 First things first. My name's Helen and during the day I'm a pharmacist. I also write medical articles and edit medical documents. So why I hear you ask, did I want to start a web site on how to save money on your wedding?
Initially I had no intention of building a website (in 2009). I just wanted to get information to help me save money on my own wedding to Jeremy which was coming up at the end of 2010.
Once I started looking, I found that I was having to jump from site to site to get all the information I wanted. Jeremy suggested that I build my own site to collate all the information in one place.
While I love writing, I had no idea about how to start building a web site, I could use the internet, word processors and spread-sheets etc. (all the normal stuff) but that was where my computer literacy stopped. But, never being one to back away from a challenge I decided to look into the possibilities.
I tried several companies who provide you with "all you need to build a website" over a number of months but none of them "sat well" with my moral compass.
I wanted to provide valuable information, not just make a quick buck without any scruples. Unfortunately my first two dalliances with the internet didn't work out well. I felt the companies I was using were more geared towards getting as many email addresses as possible to bombard people and sell them stuff. Needless to say that wasn't what I wanted, so back to the drawing board I went.
After a little more research I stumbled across "Site Build It" and as soon as I read their landing page it just clicked. It was like the feeling you get when you walk into your perfect house, you just can't explain the feeling, it just feels right.
I instantly signed up, (although I did have the benefit of having tried other companies first), as they promised to provide me with everything I'd need to build an online business (I know you've heard it before right?).  But, they were very open about it not being a get rich quick scheme and that it would involve hard work.
Guess what? It is hard work, but it's very rewarding and SBI do literally provide you with everything you'll need.
After four weeks I was building my-cheap-wedding.co.uk. I actually had a real website and it was being built correctly, so that I will have a long term business for years to come.
I work on my site around four to eight hours a week in the evenings and it's steadily attracting more and more organic traffic every month. While I wouldn't say I am an expert by any stretch of the imagination, I do know what I'm doing and I'm very confident about building my site, thanks to the SBI system and the ongoing help that I get from other SBI users in the forums.
As I searched for and negotiated the various aspects of building my-cheap-wedding I collated all the information I came across and noted the mistakes I made. I refined these over the following months and used the things that worked and got rid of the ideas that did not work.
This experience forms the basis of my-cheap-wedding.co.uk and will help you save money on all aspects of your upcoming wedding.
Anyone can save money on their wedding, just as anyone can build a website on any topic they are passionate about, even if your computer skills are lacking (I am proof of that!).
So enjoy my site and I hope you will find it to be an invaluable resource when planning one of the biggest days of your life, and dare to dream. If you have a passion or interest in something why not let it make you some money by turning your hobby or interest into a website just like I did.
Helen  x