Wedding Hairstyles on a Budget
When choosing wedding hairstyles there are a number of things to consider.

After all you're going to be looking at the photos for years to come, and you'll want your hair to look its best. The same applies to your choice of hair accessories, as they'll help to create your overall look.
Where you get married and when you are getting married will influence your wedding hair style. For example, if it's likely to be humid and you're prone to frizz may want to opt for an up-do. Likewise if you suspect there is a good change it'll be windy you may prefer to have your hair up rather than trying to tame a tangled mop during the photos!
Another important consideration is what style your dress is. Traditional gowns work better with more formal hairstyles, whereas a bohemian style dress looks great with a more relaxed hairstyle—think tumbling curls and Grecian gowns (if you've short hair have a look at wedding hair pieces to give you a different look).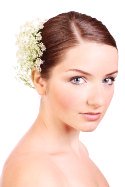 Throughout this section on wedding hairstyles I'll be looking at the following topics in more detail:
For those of you on a very tight budget, why not do your own hair or ask a talented friend or relative. Simple hairstyles can be achieved with a little perseverance and a few trial runs. Think of it as an excuse to have the girls over for a glass of wine!
Ultimately when choosing between wedding hairstyles you should choose one that you feel comfortable with and suits your style.
Return from Wedding Hairstyles to the home page.