Cheap Wedding tiaras
What To Look For
Cheap wedding tiaras are a great way of providing the finishing touch to your overall look.
With so many to choose from, you're certain to find one that complements your dress and your bridal tiara can be as simple or as ornate as you like.
Typically, the tiara will have a silver or gold frame on which pearls, crystals, diamantes (rhinestones), or any combination of these are arranged. There are some stunning designs available - I particularly love the antique style tiaras that look like they could have been worn by a Hollywood starlet in the 1950's.
The traditional wedding tiara is symmetrical (i.e. the design would sit centrally on your head), but a modern alternative is the side tiara. Here the design sits on one side of your head, and the band can be left visible or hidden by your hair. Each style can work with hair up or down, and with or without a veil.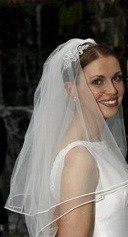 For my wedding, I had a side tiara, my hair in a roll (to the opposite side of the tiara, as you can see in the picture above - although you could have both on the same side, it's just a matter of personal preference) and a veil on the top of my head (tight against the tiara). There's no hard and fast rule as to how you wear your tiara - it's what you feel happy with.
Where to buy your tiara:

When it comes to finding a cheap wedding tiara, there's a huge range at affordable prices available online. Some bridal stores may offer a discount on accessories if you buy your wedding dress and/or bridesmaid dresses from them. Check how this discount compares with the online price.
I bought my tiara online, and saw the exact same one in a bridal store at about a 200% mark up! (And that's 200% on the price I paid, not what their cost price was).
Another alternative when sourcing your bridal tiara is to speak to a local wedding jewellery maker. You may be pleasantly surprised at how much they charge, plus you have the beauty of having a bespoke piece made to your requirements. Obviously the more intricate the tiara, the more work will have gone into making it and so the more expensive it will be. A crystal wedding tiara or a pearl wedding tiara can easily be made this way.
Now you have all the information you need to help in the search through all those cheap wedding tiaras to find your perfect wedding tiara – happy hunting!
Return for Cheap Wedding Tiaras to Wedding Hairstyles.