Wedding Updos
I know what you're thinking; there are so many different types of wedding updos, where does a girl begin?
The beauty of a wedding updo is that as well as making you look fabulous, your hair will stay in place all day and should look as good at the end of the night as it did when you walked down the aisle.
Hair worn down can become limp or frizzy as the day goes on, unless you intend to bring a bag full of products to use throughout the day to prevent this happening.
Also, with a wedding updo, you're not tempted to fidget with your hair – so you can relax and dance the night away without worrying about it.
You may have narrowed down one or more wedding hair styles that you like – if so cut out a few pictures from magazines which you can show to your hairdresser and get his or her opinion.
When choosing your wedding updo go for one that will flatter your face shape, hair type and length, and will complement your dress.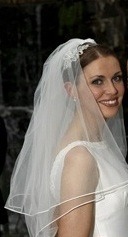 It's really important to try several different styles and remember to take lots of pictures (use the canera on your phone) from lots of different angles. That way you can decide which style is the best.
It may take several attempts to get the look you want. So don't be too disheartened if your preferred style doesn't look perfect the first time you try it.
Leave plenty of time to have hair trials:
Don't leave it to the week before the wedding as you'll have enough to deal with by then!


Take any hair accessories (such as wedding hair combs, tiara etc.) and your veil (if you're wearing one) with you to the hairdresser as it's important that they should work with your wedding hairstyle. You don't want to put your veil on for the first time two hours before the ceremony and find it doesn't look right with your hairstyle.
Your hairdresser will be the best person to advise you on which is the best of your chosen wedding hair styles for you. They'll also know if that picture you've brought in of the latest 'it do' is realistic.
If you've a friend or family member who has hairdressing skills, perhaps they can offer their services as a wedding gift.
Basic buns could be done by those without specific hairdressing talent, but anything more complex is best left to a professional.
On The Day Itself:

Allow plenty of time for getting your hair done. A relaxed bride is a happy bride! Wedding updos are best done on hair that isn't freshly washed – the hair's natural oils help to hold the style, so wash your hair the day before rather than on the morning of your wedding.
Once your hairstyle is complete, a good mist of hairspray should keep all that hard work in place. Keep some hairspray handy during the day so you can fix any stray hairs. Just don't stand near any naked flames! The smell of burning hair will likely put your guests off their meal!
Don't panic if you have short hair and still have your heart set on an updo. You can avoid the hassle of spending a year growing your hair by using wedding hair pieces, which are now available as clip in extensions.
As you can see wedding updos are nothing to panic about, plan well in advance, consult your hairdresser and get you accessories early so that you can bring them with you and then wedding hair updos become simple.
In my other articles I cover more options for those of you with long and short hair, hair accessories and even bridal party hairstyles.
Return from Wedding Updos to Wedding Hairstyles.