Wedding Hairstyles for Long Hair
Choosing wedding hairstyles for long hair can be a daunting task as there are literally hundreds of options for you to choose from.
I've no doubt you've already spent countless hours trawling through the wedding magazines looking for the perfect hairstyle (as I did for my wedding), and that's an excellent first step.
Once you've got ideas of what you'd like for your wedding hair style, you need to study your budget and decide on how you're going to achieve the style.
You've two main choices:

Hairdresser:
This will obviously be the more expensive route but it will normally be the route of least hassle and stress, especially if you don't know someone with basic hairdressing skills.
A professional (either paid or a friend who's doing your hair as a favour or wedding present) will be able to create much more intricate designs and advise you on how to insert or adjust your accessories on the day without disturbing your hairstyle.
Any pictures you've cut out of magazines should be brought to your stylist – these will convey your ideas better than words can. Get them to try out several options with your accessories as some may work better than others.
A top tip when using wedding hairstyles for long hair (and other styles) is to get one of your friends or your stylist to take some photos of each style from the front, each side and the back so you can compare them at your leisure and get feedback from family and friends.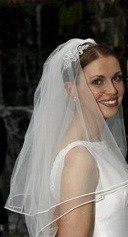 DIY:
As you'd expect with wedding hairstyles for long hair this will be the cheapest option. Perhaps you've chosen a style that's really simple to prepare, one you're used to doing yourself, or perhaps you have a friend or family member who's a professional or talented amateur who is offering their skills as a wedding present or favour.
As above try out several styles, try them with your accessories and take lots of pictures.
---
Once you've decided on who's going to do your hair ie. the hairdresser or yourself (with the help of some friends) you've several other options to consider, namely:
Consider your venue and the time of year of your wedding: - Think about what sort of weather you are likely to get. Long wedding hair styles can be very weather sensitive. If it's likely to be a calm and sunny day then you can have pretty much any style you like, although the weight of your hair will normally cause curls to fall out as the day goes on.

Alternatively If it's likely your wedding day will be humid, wet or windy then long loose hair will be more likely to go frizzy or get tangled so you may be better going for an updo or a partially pinned back style.


Wearing your hair down in big soft curls: - this is one of the more popular and versatile of the long hair wedding styles. As with any of the down styles, it is better suited to thicker hair as fine hair may allow the curls to drop out and end up looking a bit flat as the day goes on.

The soft curls look is relatively easy to achieve and can be touched up during the day. But make sure one of your bridesmaids attends the trial so she knows how to help you achieve the style.


Part up: - if you don't want your hair completely down around your face you can easily pin one side with hair grips and then hide these with accessories. It will also provide a little protection if there's likely to be a little wind on the day.


Away from your face completely: - perhaps you want the long hair look but want a little more control and don't want it around your face at all. If so you can pull your hair back as if you were putting it in a pony tail, clip it and then separate the hair and let it hang down in natural curls.


Updo: - wedding hairstyles for long hair can be unpredictable in poor weather. So if you don't want to have to deal with your hair during the day, then an updo is the one for you.

It's also ideal for brides with finer hair as down styles run the risk of going limp during the day. This should also be the easiest style to deal with as there are no curls to maintain and if there's any wind you won't have to continually adjust it for the photographs. Just make sure you've plenty of hairspray applied and have a can handy so you can fix any stray hairs during the day.


Messy Curls: - these will require less maintenance (depending on the weather) as you simply curl your hair as normal with hot curlers and then pull your fingers through the curls to separate them.

If you want your hair down and curly but it's going to be windy this may be a better option, however it won't last as long as other styles and you're better not to use too much hairspray. You'll also need to bring curling tongs to redo your curls as the day goes on.
As you can see, choosing wedding hairstyles for long hair can be a little trickier than you may have thought. But as with anything wedding related, plan ahead, choose your style considering your hair type and the potential weather, and have several trials.
Bring your hair survival kit (tongs, hairspray, brushes, hair grips and clips) and you can't go wrong – you're going to look fabulous!
Return from Wedding Hairstyles for Long Hair to Wedding Hairstyles.

Return to the home page.