How to find Cheap Wedding Dresses
We all secretly want cheap wedding dresses but we also don't want them to look cheap.
I've spent months trawling around countless bridal shops and talking to brides who have done the same. So why not benefit from my experience and use it to get your perfect dress for less than you think.
First things first, by all means do some research first (who am I kidding you've probably been researching your perfect dress for years). But don't go buying before you have set your budget. That way you know how much you have to spend and please don't be tempted to go over it.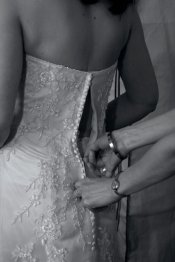 Wedding dress styles:
There are a multitude of different dress styles available to suit different situations, body shapes and budgets. Below are links to articles about some of these styles.
Once you know what style of dress you want you can get further design ideas for your cheap wedding dress from magazines. Cut out the pictures and make a note of the designer and stockists. Make appointments and go with an open mind – tell the assistants what you like and don't like, and very importantly, your budget.
Do let them suggest dresses which you might otherwise not have considered – my dress was quite different to what I thought I'd go for! The staff in bridal shops will be the best to advise you on the right dress for your body shape, and for your choice of venue, whether at home or abroad. Ultimately, you'll know when you've found 'the one'!
Once you're lucky enough to find 'the dress', the next thing is to establish the price and whether the shop is prepared to offer any discount. After all, if you are going to get a cheap wedding dress you will need to be prepared to negotiate.
Find out which other bridal shops stock your dress, and ask them for a price. As with other aspects of your wedding budget, get at least three quotes if you can.
Once you know what the rock bottom price is for your chosen dress locally it's time to research some alternative methods of buying your cheap wedding dress.
Alternatives to The Bridal Stores:
Used wedding dresses - There is some stigma when it comes to buying used wedding dresses, but there really is no good reason for this. If it helps, call them vintage. But this is a sure fire way of getting a bargain. Check out this article to find out more.
Design your own wedding dress - For those of you who want to have a unique dress made from scratch. There are ways of doing this for less than you may think. This can save a lot of money.
Buy Your Wedding Dress Online - this is often the cheapest way of getting your wedding dress. But there are a few things you will need to consider before going down this route.
It's also worth considering the bridal shops have sales when they are clearing stock to make way for new season dresses. Find out when these are and you could bag yourself a really cheap wedding dress. The dresses will be samples which will have been tried on, and the range of styles might be limited, but you might get lucky and find the dress you want at a great price.
You could even buy direct from the supplier meaning you can make potentially big savings on your dress. If this sounds like it's for you, check out my friend's site Affordable Bridal Gowns to find out how to save money on your wedding dress!
Regardless of what style of wedding dress you want or where you want to buy it, you should always try to get the best price you can and that means negotiating! I know, what if you're not the negotiating type? Well you'll be glad to hear that I've broken it down for you into easy to follow steps in my article on negotiating your wedding dress, so check it out.

So there you go – there are cheap wedding dresses out there to suit everybody's taste and budget. You just need to think outside the box a little.
Return from cheap wedding dresses to the home page

Got A Great Story About How You Saved Money on Your Wedding Dress?
Do you have a great story about how you saved money on your dress? Share it!