Cheap Beach Wedding Dresses.
and the things you must consider!
With more and more brides opting for a beach wedding, beach wedding dresses are becoming much more popular. After all, what could be more romantic than walking down a beautiful white sandy beach with your husband to be, with the sea and palm trees in the background? Plus it can often work out to be a very cost effective way of getting married.
There are, however, lots of little things that you must consider before picking your perfect beach wedding dress.
Beach weddings are normally a much more relaxed affair than church weddings, so you may want to go for a less formal dress. Casual beach wedding dresses can be anything from a simple off-the-peg summer dress (probably the cheapest option this side of a sarong), to a bespoke beach wedding dress made to your exact specification.
The most important things to consider when buying a wedding dress for the beach: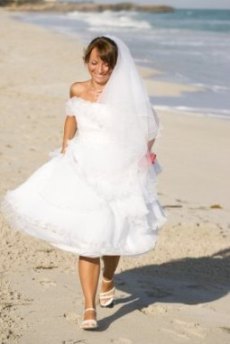 1. Weight – traditional wedding dresses can be very heavy and therefore very warm to wear, and the last thing you want to be is a sweaty mess! So depending on the weather at your venue, you should consider a lighter dress in which you can stay cool during the day.
2. Easy to pack – due to airline baggage restrictions, your dress may have to go in the hold of the plane. For this reason you should consider a simple dress that is made from light material, does not crease very easily and can be easily transported.
3. Consider the length - a traditional long wedding dress is very romantic but sand can dirty a pale hem-line very quickly. So at least consider short wedding dresses (also referred to as tea length dresses) before making your decision.
4. Consider the style - if you still want to go for a more traditional long style, consider little design aspects that can help you stay cooler. For example a backless dress will allow the breeze to get at your skin. Slits in the dress will have the same effect (but bear in mind if it is windy you could end up revealing more than you want!).
5. Consider the weather - think about what the temperature will be at the time of your wedding (check annual forecast trends), and what the wind level is likely to be (this will have an effect on hair, veil, flowers, decorations and pretty much all your beach wedding ideas).
6. Colour – white or pale colours such as ivory are the best for a beach wedding dress as they will reflect a lot of the heat away from your body.
7. Footwear - this needs to be considered when choosing you beach wedding dress. You may want the bare foot look (which will also save money!) but consider the heat of the sand. On our honeymoon the sand was so hot we could hardly stand on it - the last thing you want is to look like you are doing an Irish jig during your ceremony! Sandals, flip-flops or wedges are popular choices - heels will simply sink into the sand.
Where to buy your cheap beach wedding dress?
1. Online - this will normally be the cheapest option. But you will need to take very accurate measurements. Each site will normally tell you how and where to take your measurements (don't assume they all take their measurements the same way, always check the sites guidelines before submitting any measurements). Allow enough time to have the dress made, delivered and if the worst happens, returned. TOP TIP - always check the returns policy before ordering.
2. Second-hand - or "vintage", this option will give you less choice but you might just find a designer bargain, so it's worth trying.
3. On the high street – many stores now sell off-the-peg dresses suitable for a beach wedding that won't blow the budget.
4. Bridal boutiques - usually the most expensive way of buying a wedding dress, but you do get to see the exact colour and fabric, plus you get to try it on before ordering it.
Now you have all the information you need to choose the style and where to buy your cheap beach wedding dress. All that remains is to sort out your beach wedding decorations, beach wedding bouquets and flowers and of course book the flights!
Other Articles You May Enjoy:
Simple Wedding Dresses
Short wedding dresses
Celtic Wedding Dresses
Black Wedding Dresses
Vintage Wedding Dresses
Buy Your Wedding Dress Online
Cheap plus size wedding dresses
Design your own wedding dress
Used wedding dresses
Winter wedding dresses

---
If you enjoyed this page, please subscribe to my monthly e-zine called Cheap Wedding Gems. In it I will send you regular articles with all my latest tips and advise to show you how to save even more money.
Plus I will send you a FREE wedding spreadsheet that makes setting your budget, organising the invites, RSVP's and remembering who sent what gifts, childsplay. There's even a free table planner tool.
So...Just fill out the table below and click submit.
---
Return from Beach Wedding Dresses to Cheap Wedding Dresses.
Return from Beach Wedding Dresses to My Cheap Wedding home page.