Cheap Short Wedding Dresses
Short wedding dresses (often referred to as tea length wedding dresses) are in vogue at the moment and becoming more and more popular as time goes on.
They are'nt the obvious choice for a traditional wedding and considered to be for the brave or for those of you having a beach wedding. Others view them as the young, sexy choice.
If you dream of a 50's or early 60's style wedding or simply want an Audrey Hepburn look, then choosing a short dress may well be the one for you. No matter what your reason there's no getting over the fact that they make a seriously beautiful wedding dress if you get the right one.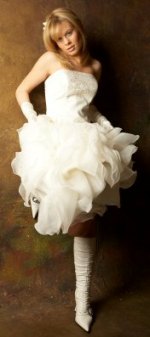 Advantages of the short wedding dress:
They flatter the petite body shape - many petite brides can feel lost in a large traditional dress. If you are petite, a short dress can compliment your shape. Tea length dresses will also look fabulous if you have shapely legs.


Easier to manage during the day - a short dress means you don't have to worry about tripping on the dress, carrying the train or lifting the dress while you walk to the photo locations.


Can be more comfortable - as they are normally a lot lighter (plus bathroom breaks will be much more straight forward!).


Easier to dance - if you are the type of bride who doesn't intend to leave the dance floor once the music starts, a short dress is easier to dance in and you'll feel cooler!


Normally cheaper - as there is less material then the total cost should be less. Plus if you are wearing a veil, you won't need to spend a lot of money on a longer length one.


Value for money - if you want to get the best value for money, then a short dress is fantastic as it can be worn again as an evening dress.
Where to buy your short wedding dress:
Most bridal stores will be able to offer you a selection of short dresses in varying styles, from informal short wedding dresses to more intricate and ornate ones.

While it is always nice to go to a single shop or selection of shops and physically see the dresses, this will normally be the more expensive way of getting your dress.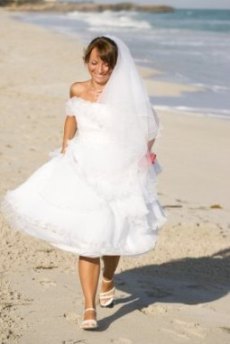 The cheapest way of finding this type, or indeed, any type of wedding dress is usually going to be online as the online wedding dress stores don't have the same expenses that high street stores have, so they can pass these saving on to you the customer.
That does mean you'll have some more things to be aware of, such as knowing your body type, the style you want and the various companies return policies etc. But if you are on top of these and start looking early enough then there's no reason why you can't get the perfect dress online and on budget.
Alternatively, you can look in charity shops or on online forums for second-hand dresses that other brides want to sell.
When choosing the style of your short wedding dress, there are lots of options including halter neck, strapless, spaghetti straps and so on.
Once you have figured out what style you're after, start your searching online and don't forget to check out the returns policy before you commit.
Return from Cheap Short Wedding Dresses to Cheap Wedding Dresses.