Buying Your Wedding Dress Online?
Things You Should Consider.

Ok, so you're thinking about buying your wedding dress online.

I'm guessing you've already scoured the bridal stores and trudged up and down the high street looking at, and trying on, dozens of wedding dresses only to be disillusioned by the huge price labels.
Well there is another option. There are lots of online wedding dress suppliers available with hundreds of different styles, and many suppliers that'll allow you to design your own dress online, make it for you and then deliver it right to your door.
However when you're ordering online wedding dresses there are a few things you'll need to consider first: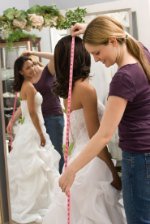 When will your dress arrive? - make sure you've left enough time to get your dress made and delivered and if need be, return it for alterations or a refund while still leaving enough time to get a replacement.

Online wedding dresses are great providing you allow plenty of time for all eventualities. It's normally a pretty smooth process but you plan for the worst and that way you'll have covered all eventualities.


Know how they take measurements - each manufacturer will have specific ways of taking measurements for their dresses. Don't assume they all take their measurements in the same way. Check out their website and take your measurements exactly as described and keep a record of the measurements you've sent them.


Returns policy - hopefully you won't need to use it but, in life things can and do go wrong. So before you commit to buying from any site you should make sure you're aware of their returns policy.


How can they make them so cheap? there's a good chance most of the online wedding dresses are coming from China. Huge numbers of dresses are made there (including designer dresses) and then supplied to wedding stores around the world.

Like many things these days, more and more companies are turning to China to get their products made because of the cheap labour rates, but they then sell them to you and I at the full prices.

So why shouldn't you be able to cut out the middle man? Here are the things you need to consider before ordering your wedding dress online.

Get a swatch - make sure they can send you a swatch of the actual material. It's all well and good looking at a picture online but that won't let you feel what the quality of the fabric is like, or how it looks in natural and artificial light. Any good online supplier should offer this service.


Order status - you should make sure whichever supplier you use offers this service. That way you're kept up to date with the progress of your wedding dress and you can avoid any nasty surprises with unforseen delays and the like.


Can you send them a picture of what you want? - many of the online suppliers offer a service where they will make up a specific style of dress for you from a picture. All you have to do is provide them with as many pictures of your chosen dress as possible (the more pictures you can get them from as many different angles as possible the more accurately they'll be able to reproduce the dress).


Can you alter existing styles? you may see a dress which they offer "off the shelf" but which you would like to make a few alterations to. If so, most are pretty accommodating and provided you can explain the alterations adequately (drawings or photographs will help immensely) they'll normally be able to work with you.

Many even offer a facility where you can design your wedding dress online within their site.
Provided you follow these simple rules, ordering your wedding dress online doesn't have to be something to be scared of. As long as you've done your research and allowed enough time for unforseen issues buying your wedding dress online needn't be stressful.
If you don't think ordering your wedding dress online is for you there are many other routes to affordable wedding dresses, check out my cheap wedding derss section by clicking the link below,
Return From Buying Your Wedding Dress Online to Cheap Wedding Dresses.