Used Wedding Dresses
a modern bride's best friend.
If you say used wedding dresses to some brides they'll run a mile!

But take a moment and think about it. If I offered you a pair of £1,000 Jimmy Choo's that had been worn once, were unmarked, and I only wanted £250 for them. What would you say?
Exactly!
Now if you go back to the start of the first paragraph and substitute "used wedding dresses" with "vintage wedding dresses". All of a sudden some of the stigma has gone; after all "vintage" clothing is all the rage at the moment with many of the top celebrities and models such as Kate Moss wearing them. So, vintage is not only cost effective, it's fashionable.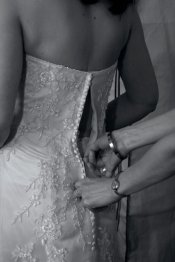 So, now that we are looking for a vintage wedding dress you can forget all those worries about what people will think or why would anyone sell a perfectly good wedding dress.
Firstly - who's going to know? I won't tell anyone if you won't. All your guests will see is a stunning bride in a beautiful dress (that they'll think cost you a fortune).
Secondly - these are tough economic times and lots of brides on a budget are looking for ways to recoup some of the cost of their wedding. So lots of brides are selling their beautiful designer dresses that they paid a small fortune for (and only wore once), and what's more they are selling them at very good prices.
Some brides even advertise their dress before their wedding date to make sure they stand a better chance of selling it immediately after the wedding.
Now that we've established that vintage wedding dresses are fashionable, how do you go about getting one? Well as always, you've got a few choices but the most common are as follows.
Wedding blogs/forums - Check out the online wedding forums and blogs in your local area for used wedding dresses (that way if you find "the one" it'll be close by and should be easy to go and see it and try it on). If that's not working expand your search area until you find the right dress.

Don't be afraid to go onto the forums and say what you are looking for, even if you don't see any dresses for sale, some brides may just need a little push to consider selling their dress.

As with any dress purchase, check out sizes and try on the dress if possible. If it is not possible to try on the dress, always discuss the options with the seller i.e. what are the options if you get it and it doesn't fit.


eBay - Old faithful when it comes to selling anything second hand online. But be careful of the returns policy as you'll not be able to try it on before purchase. Other internet auction sites are available such as Gumtree which is gaining in popularity all the time.


Charity Shops - This can be a bit hit or miss. If you're checking out the local charity shops you may have more luck by contacting the charity's head office to see if they have a particular store where they send all their wedding dresses. Or maybe there have a particular store that stocks more wedding dresses than their other stores.

For example Oxfam has some shops with wedding dresses on the first floor so that brides have total privacy to try on the dress away from prying eyes. What's more they try to price their dresses at around 30% off the high street prices and some of their dresses are donated by designers and shops, so they may not have been worn outside of the catwalk.

TK Maxx also has a wedding dress section online and from time to time they even offer free postage on orders over a certain value.

If you do decide to buy a vintage wedding dress, the age of the dress is relevant, the older the wedding dress the more chance the sizing will be different from today's sizes, so always try the dress on where possible.
If trying it on isn't possible make sure you fully understand the returns policy before buying the dress. Bear in mind that older dresses will probably look a little dated, but if it's the right price a good dressmaker will be able to "modernise" it quite easily.
So used wedding dresses, sorry, vintage wedding dresses aren't something you should shy away from. Yes it'll take a little leg work on your part but you could end up with a beautiful wedding dress at an absolute bargain price, and everyone loves a bargain.
If you're still struggling with the concept of the used wedding dress there are other cost effective options available such as buying your dress online or designing your own dress etc. Just take a look at my main cheap wedding dress page where you'll find links to all the other options.

Return from Used Wedding Dresses to Cheap Wedding Dresses.