Design Your Own Wedding Dress
Ok, you're considering whether or not to design your own wedding dress and I'm sure you're quite apprehensive, but don't be.
If you are reading this there is a good chance you have some experience of dress making, and if so that's good. However if you don't have any dress making experience don't panic, you don't necessarily need any.
As with all brides in today's cost conscious climate, you are right to consider ways you can design your own wedding dress, it's an area where you could potentially save quite a bit.
On a more sobering note it's not a venture you should enter into lightly. You'll need to allow yourself plenty of time to order material and accessories and to physically make the dress and carry out any alterations (if going down the DIY route).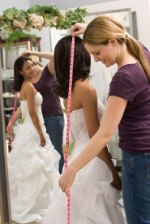 Before you start looking for dress patterns you need to decide on what style of dress you want. I assume, like me, you have spent countless hours trawling the wedding magazines cutting out pictures of dresses and preparing a scrapbook with ideas to help you design your own wedding dress.
If so great, if not, start looking for ideas now and try to narrow down a style of dress that you like. Don't be afraid to choose several and mix and match.

The next step is to try on some dresses in the style or styles you've chosen to make sure they suit you. Once you've decided on a style you like, you are ready to proceed to the next step, and depending on your experience there are several options:
Online

:

This will suit if you have no experience of dressmaking or maybe you don't have the time or inclination to make it yourself. Either way there are now two further choices:

1. Design Only:

You can use one of the many online wedding dress tools to help design your own wedding dress, simply by clicking on the various elements of the dress and choosing different options such as slieve length, colour etc. Two of the more popular sites for this are"weddingdresscreator.com" and "ivillage.co.uk/tool/build-your-dream-wedding-dress"


The beauty of this over cutting out pictures is that you can try different sleeve, bodice, neckline or shape combinations etc. at the click of a mouse. Once you have the perfect style you can print this out and take it to a dressmaker who can take your measurements and make it for you.

2. Design it and have it made online:

You can design and make your wedding dress online with one of several companies who let you come up with the design (as above). Then you just need to submit your measurements. Be as accurate as you can, most sites will have tables showing you where and how to take your measurements. Then you just have to choose your material and they'll make it for you.

A point of caution however: this may be cheaper (which is always good for the budget), but you should always check the exchange and returns policy on the site. After all you are ordering a dress which you have never tried on and never actually seen in reality.
Dressmaker

:
The alternative to the above is cutting out the pictures in the magazines you like and then bringing them to a local dressmaker who will be able to combine all the elements you like into your dress.
The benefit of this method is you get to have your measurements taken by a professional and you can try it on at various stages throughout the process. The down side is it will likely be more expensive than the online suppliers but you may be happy to spend a little more to get piece of mind.
DIY

:

As mentioned above, this is not for the faint hearted. However, if you are confident in your dress making skills then you should not be put off. After all to design your own wedding dress is, in principle, not that much different from making any other type of dress.

As above the first thing to do is decide on a dress style (try them on in bridal shops) and then search all the wedding dress patterns available online to get the correct one (believe me, there are lots available!). Remember to choose a pattern that suits your ability, choosing a simple design will obviously be more straight forward than a dress with lots of pleats or very intricate design details.

Some patterns will recommend certain fabrics, but be aware, natural fabrics such as silk can wrinkle easily so if this is something that concerns you, consider man made fabrics.

It's always a good idea to make a trial dress out of a cheap fabric like muslin before tackling your expensive fabric. That way you can make mistakes and correct them without ruining your actual dress fabric. Plus, once you get the fit right you can unpick the seams and use it as a template for cutting your real dress material. If you do get stuck, don't stress, speak to a local dressmaker who will be able to help.

No matter which method you choose to design your own wedding dress, start early. These things have a tendency to take way longer than you imagine, and you don't want to be stressing about your dress in the week before your wedding.

So whether you decide to design your wedding dress online or just get the wedding dress design online and have it made locally there are always options, so take your time you will get through it and save money on your wedding budget.




Return from Design Your Own Wedding Dress to Cheap Wedding Dresses.