Black Wedding Dresses
Black wedding dresses are perfect if you're someone who likes to defy convention, stand out from the crowd and maybe even go against the grain a little.
Some brides might balk at the idea of such a bold colour choice but it's not as new or as controversial an idea as you might think.
Today's trend for white or ivory coloured wedding dresses was started by Queen Victoria when she married Prince Albert in 1840. Before this time brides had worn blue, red, yellow as well as more practical colours like grey and black. Unlike today, when wedding dresses are usually worn only once, back then brides were expected to get a bit more value for their money! So black made perfect sense!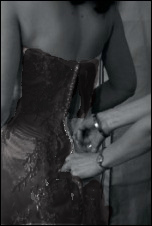 Benefits of a black wedding gown:
The beauty of a black wedding gown is that you can use a black formal dress, and with so many to choose from you'll easily find the one to suit no matter what your shape or size. The high street and online stores are full of black dresses that could be used as a wedding dress. Plus they will likely be a lot cheaper than a traditional dress as they currently aren't that common.

On a similar note, because you have so many dresses to choose from, you should have no problem finding a cheap black wedding gown, think little black dress if you are looking for a simple wedding dress or a black formal dress is easy to buy or hire it for the day (cheaper again).

For brides who wish to get more than one day's wear out of their dress, black dresses can be worn afterwards for special occasions either as they are or with a few alterations
You'll definitely turn heads!
Where can you get black wedding gowns?
While Vera Wang may be out of reach for many brides, fear not! When buying traditional wedding dresses you are restricted to bridal shops and suppliers. If you're after a black dress for your wedding then you'll have plenty of options. As well as the high-street option, consider online suppliers (both wedding and mainstream).
If you don't find what you're after why not try the made to measure option? If you have an idea in mind for your perfect black wedding dress, why not find a good dress maker who can create it for you? Then getting a black wedding veil online should be easy and check out my article on black wedding invitations to complete the theme.
So if you fancy daring to be different on your wedding day, give black wedding dresses a thought you could even extend your theme to you invites by having black invitations!
Return from Black Wedding Dresses to Cheap Wedding Dresses.