Cheap & Simple Wedding Dresses
The Essentials
Simple wedding dresses are starting to come to the fore as brides realise they don't have to spend a fortune having a very intricate wedding when a simple, elegant wedding fits their personality (and budget) just as well.
A simple and elegant day demands a simple and elegant dress, and the beauty of a simple dress is that it doesn't have to cost you a fortune. The very essence of a simple dress means you don't have to have all the fine details and embellishments that push the price of traditional dresses up. For this reason a simple dress can be a cheap wedding dress.
Just because the style is simple doesn't mean you have a restricted choice. From a very simple white summer dress, to an elegant, off-the-peg designer wedding dress, your perfect dress is out there.
Your venue will also help dictate the style of your dress. For example a beach wedding will suit a very light (possibly shorter) dress, while a church wedding usually calls for a longer style simple wedding dress.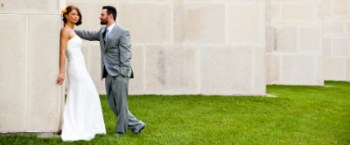 Where to Buy Your Simple Wedding Dress:

You have a huge choice when it comes to buying your wedding dress and these are only restricted by how much leg work you want to put in.
The high street - some would argue this is the easiest option and I guess they may be right but it's not going to be the cheapest. That said it does have it's advantages, such as:

(a) On the high street you'll be able to try on the dresses and get an instant feeling about whether it's the dress for you.

(b) You'll get to physically see and touch the fabric.

(c) You may stumble across a dress that you hadn't initially thought of and you can try it on there and then.

(d) You'll get advice from the assistants who work with wedding dresses every day. So they may be able to steer you towards something that may work better with your skin tone, shape or height etc.


Online - This will ofter be the cheapest option but you'll have to do some more research on the dress, the company and their policies. The advantages are fairly obvious as you'll likely save a lot of money, but you also need to be aware of the potential downsides.

(a) You'll have to prepare a little better by sourcing the type and style of dress that you want before making contact with them. The more ino you can give them the better the results.

(b) Allow plenty of time to get the dress and, should the worst happen, to return it for alterations or replacement etc.

(c) provided you research the company well, provide them with as much information as possible it's actually a fairly straight forward process and not nearly as scarey as you might think.


Get it made - again this isn't as daunting as it may sound, speak to a local dress maker (or one of the many online companies) and tell them what you want. If you can give them pictures (the more the better) it will help them.

Get a price from them and a time scale for manufacture, fitting and alterations and that's it. You just have to give them the go ahead and thy'll do the rest.

Your accessories for simple wedding dresses should also be simple as you'll not want to complicate the overall look. My suggestion would be a simple necklace, matching bracelet and hair accessories, possibly imitation pearls or some other elegant combination that won't overpower your look.
Your veil can be any length you like but should also be a simple design.
In conclusion, when choosing simple dresses pick your style, try it on if possible to ensure the style suits your body shape and then decide if you want to buy online (normally the cheapest option), buy second-hand, on the high street or design it/make it yourself.
Return from Simple Wedding Dresses to Cheap Wedding Dresses.