Beach Wedding Ideas
My Top Tips
If you're thinking of getting married by the sea, my beach wedding ideas article is the perfect place to start.
Beach weddings are a great way of saving on your wedding budget as the venue normally requires very little decoration.
The natural backdrop will look much better than any man-made decorations (and it's much cheaper when Mother Nature sorts it out for you!). You will however still need to provide some simple detailing to finish the look.
There are lots of little things you will need to give consideration to when planning your beach wedding, but the most important is KEEP IT SIMPLE. I have detailed my top beach wedding ideas including beach wedding decorations below: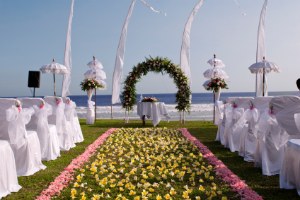 Consider the weather - it can be quite windy at the beach so try to avoid using anything that's light enough to be blow over (or away). Think log veils, tall candle holders, long loose hair styles and long flowing wedding dresses etc.


Table centrepieces - try to use anything that fits in with your beach theme such as a drift wood, sand, shells, old fishing nets etc. You can always add simple glass vases etc. to hold them.

By keeping decorations to a minimum not only will you keep it simple but you'll also save money and have fewer things to worry about if it does get windy.

Candles are very difficult as the slightest breeze can blow them out and if you have a lot of candles they'll take ages to re-light. Or, worst case scenario, they could blow over and set fire to something.  If you must have candles give serious consideration to tea-light votives or lanterns to keep candles safe, secure and lit.


Rent a garden arch - this normally isn't necessary as most beach venues will be able to provide them (but do check first). They're easy to decorated with flowers and greenery or simple fairly lights (a power supply will normally be required unless you go for battery powered lights) to provide a beautiful back drop to frame pictures.


The chairs - on a beach location you can get away with simple wooden folding chairs (white look fantastic). Or for that very special look they can be easily lifted with chair covers and bows to suit your wedding colours.

Make sure chair covers are securely attached and don't forget that your chairs will need a secure footing. If you place them directly on sand the chair legs will sink as your guests sit on them.


The aisle - this doesn't have to be marked out specifically, however you could mark it out with rows of shells, beach torches or wooden stakes joined by rope or fabric (be aware of your guests, as you don't want them tripping over anything as they try to get to their seats).

Alternatively you could use an aisle runner (which has the added bonus of keeping your dress off the sand which can dirty it).


Your beach wedding dress - consider the length of your beach wedding dress, a full length one will drag on the sand and get damp and dirty very quickly whereas a short dress will stay clean. You can even buy wedding dresses specifically for beach weddings that are made from lighter material to help keep you cool.


Beach wedding invitations - beach theme wedding invitations can be very informal as simple earthy designs suit the beach theme. Plus they're very simple to make yourself or get online as either free printable wedding invitations or complete and ready to post out seal and send wedding invitations.

By thinking outside the box with your beach wedding ideas you'll be able to create simple invites that tie in your location. For example you could create a message in a bottle or treasure map invitations etc.


Think about the heat - there's a good chance it'll be hot on the beach (hopefully) so consider providing shade for your guests such as hats, sunglasses or parasols. You could also provide small paper or battery operated fans to help keep them cool.

Another nice item you could provide is chilled bottles of water, maybe even make up a gift bag with a few of these items included. They are relatively cheap to buy and even to personalise if you want to and they can take the place of wedding favours.


Footwear - Your guests should be made aware that your service is to be held on the beach. That way they can wear appropriate footwear. You may even want to detail the appropriate dress code on the invites.

Alternatively a nice beach wedding idea is to provide flip-flops on the day and facilities for washing and drying their feet as they leave the beach.


Local wildlife - you should check your chosen beach carefully before the wedding as you won't want the local wildlife to make their presence obvious. The last thing you need is to have crabs, seagulls, jet-skiers, etc. annoying you or your guests on your big day.


Decorations - beach decorations are quite straight forward and simple to do. They can be as simple as wrapping things in raffia to create a thatched beach hut look or draping fishing nets around items or on walls and adding a few plastic crabs or crab traps etc.
When planning a beach wedding you should always discuss your plans and requirements in detail with your venue. Ask them exactly what they'll supply and if there's something you feel is essential to your day, ask them if they can source it and how much it will cost (for example fairy lights will require a power supply). By knowing all the details in advance you can avoid any nasty surprises on the day itself.
Hopefully at this stage you can see that beach wedding ideas can be straight forward, stylish and even save you money. No matter whether your beach wedding ideas are to be part of a wedding cruise, a Caribbean wedding or a cheap wedding package the secret is to keep them as simple as you can, don't try to out do Mother Nature. It's much easier to just try and complement her.
Return from Beach Wedding Ideas to Cheap Wedding Reception.