Beach Theme Wedding Invitations
My Favourite Ideas
Beach theme wedding invitations are a great way of incorporating the theme of your beach wedding into your invites.
They're also quite simple to get online with many of the free printable wedding invitations and seal and send wedding invitation suppliers offering beach themes. Or, if you're feeling a little creative why not make your own wedding invitations?
My favourite ideas for DIY beach wedding invitations:
Message in a bottle - all you need to do is source some miniature bottles online (or locally if you can find them), print your invitation onto a piece of aged paper (damp tea bags are great for achieving this aged look). Frayed edges also look good. Finally roll the invitation and tie it with a ribbon and place it in the bottle. Box the bottle and send out. Be aware the thickness of the bottles will mean your postage will be more than with standard envelopes.

Folding flower - you simply cut the graphic you want into the shape shown and then print your wording onto a different page, cut out the wording and stick it into the centre of the flower. Finally fold the petals of the flower along the dotted lines - once you have them all folded they should lock all the other petals in the closed position. The image below is one I made up on the PC to give you an idea. You can make yours to whatever size and design you like.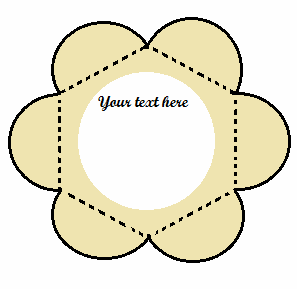 Beach ball invitations - buy some of the cheap inflatable beach balls and get your invitation wording printed onto them by a local print shop. Once done blow one up to check it looks ok and if so, box them and send them. Just buy one initially so your local print shop can make sure they can print onto them before you go out and buy dozens.

Kite invitations - as above, buy some cheap kid's beach kites online, print your invitation onto the kite, disassemble it, box it and post it.
Treasure map invitations - draw up a treasure map (can also double as a map to the reception) with X marking the venue location. Age it as above, roll it and tie it with a little ribbon and finally box it ready to post out. You can also try to get some funny aspects onto the map that your guests will associate with you as a nice final touch.

Sand invitations - Make your own invitations with a sand theme, this can easily be achieved by selecting some areas of the image or text to coat with glue and pour sand over it. We've all done this with glitter as kids so it should all come flooding back. Once dry tip the excess sand off and hey presto you're done.
Picture invitation - this is my personal favourite. Simply write your invitation wording for your card in the sand on a local beach and take a picture of it. Print the image onto the cover of a blank card and then print out the internal wording and stick it into the card. This is also a good idea for the thank you cards as you can use a picture of the two of you next to the word thank you written in the sand on your honeymoon.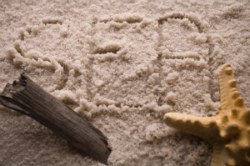 If you're having a beach wedding it's always a good idea to mention this in your invitations. That way your guests can be forewarned to dress appropriately (you may want to suggest a dress code such as linen trousers, short sleeved shirts etc. to avoid confusion). I can't imagine your guests would be very happy if they show up to your beach wedding in dark clothing as they'll be really uncomfortable if it's hot, which hopefully it will be!
It's also a good idea to include the following in your beach theme wedding invitations:
A map showing the exact location of the service on the beach and where they can park.
Details of local hotels and accommodation.
Details of local taxi companies so your guests can plan how to get home at the end of the night.
These are just some of my personal favourite ideas for beach theme wedding invitations. Obviously these are not your only options, if you take a few minutes and I'm sure you'll be able to come up with alternative ideas that are just as good if not better and more personal to you.
Regardless of whether you choose beach theme wedding invitations or not there are dozens of ways to reduce your costs such as making them yourself, getting them online or getting them printed localy etc. for a full list check out my cheap wedding invitations page by using the link below.
Good luck.
Return from Beach Theme Wedding Invitations to Cheap Wedding Invitations.

Return to the home page.