Celtic Wedding Dresses
Celtic wedding dresses are very popular with brides who have a strong affinity with their Scottish, Welsh or Irish roots.

Or maybe you just love the medieval wedding dress look and style.
Most brides assume Celtic dresses come from Ireland (the majority do), although there are also some very good suppliers throughout Scotland and Wales also.
Don't feel you have to be Irish to wear a Celtic dress; maybe you are marrying into an Irish family or have Irish roots. Maybe you just like the style, if so go for it. An Irish theme is really easy and looks fantastic. Especially when you finish it with Celtic knot rings maybe a Claddagh engagement ring and send out Celtic themed wedding invites.

The two most popular styles are:
1. A simple under-dress or bodice with a flowing overdress.
2. A one piece style dress (usually nipped in at the waist).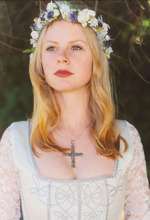 Whichever style you choose Celtic dresses usually have lots of flowing fabric with loose sheer sleeves. The fabric is normally silk, cotton, velvet, lace or a combination of the four.
Your dress would then either be left very simple or embroidered in ornate thread embroidery in Celtic designs as in the picture above.
The colour of the Celtic wedding gown would historically have been blue which symbolised purity. Now however, white is very common but the beauty of Celtic wedding gowns is that you can choose from a number of rich colours without your guests raising an eyebrow.
Common colours used in Celtic dresses include vibrant reds, greens or blues.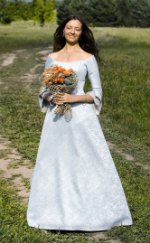 A traditional Celtic wedding dress is very intricate and will usually be a little more expensive than a traditional wedding dress. They can be bought online cheaply but you need to ensure the quality will meet your expectations.
Where to buy:
Specialist designer - This option will be the most expensive however, you will be able to look at portfolio pictures of previous dresses, have elements of the various dresses combined into your perfect dress and have it made to fit.

Buy online - As with anything, there will be a better choice online and the dresses will normally be cheaper. Always ask for high quality pictures of the various dresses, and always confirm the materials that will be used and check the returns policy before ordering. You should also take care when taking your measurements and check on the site's pages for details of where and how to take your measurements.
Make it yourself - This is a viable option if you have some dress making experience as Celtic wedding dress patterns and medieval wedding dress patterns are available on line. Alternatively you could buy the pattern online and then take it to a local dressmaker to have it made to your measurements.
How to accessorise:
Traditionally a Celtic bride would plait her hair for an Irish wedding as this is a symbol of feminine power and luck (plus this is easy to do yourself and will therefore save you the cost of a hairdresser).
Traditional tiaras can be replaced with flowers or Celtic design headpieces.
When you are looking for cheap Celtic wedding dresses there is a huge array of designs and styles available - you're the only one who can choose the perfect style for your big day.
If you enjoyed this page, you can subscribe to my monthly e-zine called Cheap Wedding Gems. In it I send you regular articles with all my latest tips and advise to show you how to save even more money on your wedding plans.

Plus I'll send you a FREE wedding spreadsheet that makes setting your budget, organising the invites, RSVP's and remembering who sent what gifts, childsplay. There's even a free table planner tool.

So...Just fill out the table below and click submit.

Return from Celtic Wedding Dresses to Cheap Wedding Dresses.