Claddagh Engagement Rings
and Your Choices.
Claddagh engagement rings are often misunderstood and many brides are not aware of the tradition involved. They were originally worn by sweethearts whose men had gone to sea seeking their fortune. It was worn to show other men that the girl's heart was promised to another and that she would remain true to him until he returned to marry her.
The Claddagh ring represents fidelity and depending how it is worn tells those around of your relationship status.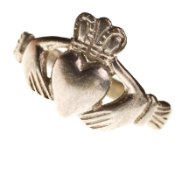 If worn on the right hand with the crown facing away from your heart, it denotes that you are single.
If worn on the left hand with the crown facing away from your heart, it denotes that you are engaged.
If worn on the left hand with the crown facing towards your heart, it denotes that you are married.
Traditionally a claddagh ring should not be purchased, rather, it should only be received as a gift.
There are many ways of individualising your claddagh engagement ring.
- White gold claddagh engagement ring – this is a popular choice as it has the look of a platinum ring at a lower cost. However the coating on the gold will eventually wear off.
- Gold claddagh ring – this is a more traditional option and your choice will depend on your budget (normally 9ct, 14ct or 18ct gold, with the higher the number meaning the more gold is contained in the ring)
- Diamond claddagh rings - as you would expect, diamonds are the most popular choice for engagement rings. Once you have chosen your metal for the ring, you should look at the quality of the diamond/diamonds. (Check the four Cs - colour, clarity, cut, carat).
- Sterling silver claddagh ring – this type is easily available, however I would not recommend silver as engagement ring as silver is quite soft and will not wear well. You could consider silver if you are on a very tight budget and then possibly upgrade it in a few years when you can afford to.
- Birthstone claddagh ring – this is a popular way of making your claddagh ring more personal and keeping the cost down (compared with diamonds).
January Gemstone: Garnet. Colour: Deep Red
February Gemstone: Amethyst. Colour: Purple
March Gemstone: Aquamarine, Bloodstone. Colour: Pale Blue
April Gemstone: Diamond. Colour: White, Clear
May Gemstone: Emerald. Colour: Green
June Gemstone: Pearl, Moonstone, Alexandrite. Colour: White or Purple
July Gemstone: Ruby. Colour: Red
August Gemstone: Peridot, Sardonyx. Colour: Pale Green
September Gemstone: Sapphire. Colour: Deep Blue
October Gemstone:/ Opal, Pink Tourmaline. Colour: Multi-colour, Pink
November Gemstone: Citrine, Yellow Topaz. Colour: Yellow
December Gemstone: Blue Topaz, Turquoise. Colour: Blue
Where to buy :
Online – as with anything else you will normally find a larger choice and cheaper prices, however you won't be able to try the ring on so have your finger measured accurately. Try on as many different styles and metal types on the high street first. Also check the small print concerning the returns and refunds policy before you order.
On the High Street - This is more convenient but you will have a restricted choice and the prices will not usually be as competitive.
Now that you understand the history of claddagh engagement rings, the types available and how to buy them, all that remains is to choose the perfect Celtic claddagh ring and getting it ordered. You can even buy men's claddagh rings so the groom can have one to match, if you so desire.
Related Articles:
Celtic Wedding Dresses.
Are Palladium Wedding Bands Good Value?
Cheap Wedding Rings.
Celtic knot Wedding Rings.
Cheap Platinum Wedding Rings.
Design Your Own Wedding Ring.


Return from Claddagh Engagement Rings to Cheap Wedding Rings.

Return to the home page.