Design Your Own Wedding Ring
for Less than You Think
There are many companies out there who will let you design your own wedding ring.
This can take many forms of design; from a simple engraving of your wedding date or your names in each other's rings to a totally bespoke design created by yourselves (usually in conjunction with a jewellery designer).
In the past this was considered to be the preserve of only the wealthy but there are ways to get this look for less.
1. Buy online - you'll normally make bigger savings. However if you want to avoid paying an arm and a leg for something that goes on your finger, there are a few things to bear in mind…
It's usually cheaper to buy your bespoke wedding ring online.
If buying online you'll have to communicate by email and telephone.
You won't get to see your ring in the flesh (so to speak) until it is complete and you have paid.
It will cost more than an "off the shelf" wedding ring.
2. Talk to a local jewellery designer - but you may have to be a little more creative with this second method.
Bring old rings you don't wear any more to get them melted down and reduce your costs.
Consider using a cheaper metal like palladium or silver.
Negotiate - you might be surprised at how much you can get the price reduced by simply asking.

When it comes to bespoke wedding band designs there are three main types to be considered when deciding if you want to design your own wedding ring.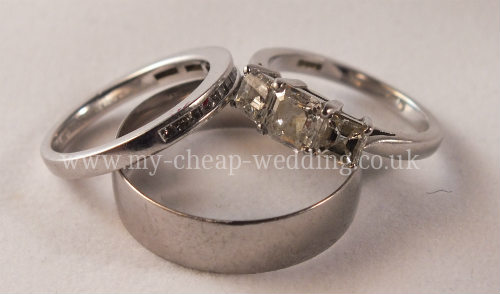 Totally bespoke:

This method involves either you or you and a jewellery designer creating a design for your wedding ring. It's cheaper to use the designer from the store you're buying from rather than paying a designer separately. Don't let a lack of design experience put you off getting involved in the design process. All you'll need to be able to do is send them some clippings you've cut out and tell them how you'd like them changed, it's easy. They will make the suggestions and then you can suggest changes.

You'll have to bounce ideas and comments back and forward via email or telephone until you get the final design sorted but its pretty straight forward. Once the both you and the designer are happy they'll create a design which they will send to you for approval.

Any of the better jewellers will be able to produce a 3D computer rendering showing exactly what your finished ring will look like. You'll still be able to tweak the design before you can sign off on the design. Take your time as once you have signed it off you're committed.

Most companies will include the design stage in the cost of the ring, so if they do try and charge you separately either shop around or make sure that the design fee is taken of the price of the ring when you sign off on the ring design and commit to taking it.
Alter an "off the shelf" wedding band:
This is a cheaper way to design your own wedding ring that going totally bespoke. It involves buying an "off the shelf" ring, usually from the company who's going to work on it for you and then having it altered either to match your engagement ring or just to make it a little different from anyone else's. The process itself is very straight forward.

The only potential down side is that if you want the ring altered to match your engagement ring you will have to send it to them so they can get the match exact. It's possible to get alterations done on the high street if you can't bear to part with your engagement ring. If so you could still buy the wedding band online and use the savings to fund the alteration.
Minor Alterations:

This is obviously the cheapest way to design your own wedding ring as it only involves getting small alterations carried out to an off the shelf ring such as engraving messages, initials or a date on the inside of the band or adding precious stones to a plain wedding band.
---
You may already have an idea for an alteration but it's a good idea to contact the firm you have chosen to carry out the alterations to check if what you have in mind is achievable.
No matter how extensive or minimal you want when you design your own wedding ring, always make sure to get three quotes for the work and an estimate of how long the whole process is likely to take before you commit yourself financially.
You should always bear in mind that a bespoke or altered wedding ring will not be subject to the normal returns policy as it has been altered to suit your tastes so always discuss the options with your chosen company.
You'll find lots of online jewellers out there who'll allow you to design wedding rings yourself, so happy hunting.
Other Articles You May Find Interesting:
Mens Wedding Rings
Are Palladium Wedding Bands Good Value
Unique Wedding Rings.
Wedding Band Metal Types.
Claddagh Engagement Rings.
Celtic Knot Wedding Rings.
Cheap Diamond Wedding Rings.
Cheap Platinum Wedding Rings.

Return from Design Your Own Wedding Ring to Cheap Wedding Rings.