Is a Palladium Wedding Band
a Good, Yet Cheap Option?
A palladium wedding band is the most cost effective way of getting the look of Platinum for a fraction of the cost.
There are still a surprising number of brides out there who still don't know the benefits of Palladium wedding rings over platinum wedding rings. Some will argue Palladium is one of the jewellery industry's best kept secrets, and others will dismiss it as a Platinum wannabe! Either way I should at least let you in on its advantages and benefits
A few years ago it would have been quite difficult to get a Palladium wedding ring. Now however, Palladium is fast becoming the metal of choice because of its many advantages over other metals, plus the fact that is so much cheaper than Platinum.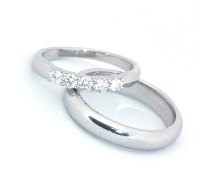 What is Palladium?
Palladium is part of the Platinum family and looks very similar to it (silvery-white) and is around 95% pure.
Advantages of Palladium Wedding rings:
Cheaper, at around 1/3 the cost of Platinum. Don't expect this to last as the more it increases in popularity the higher the cost will go.
Visually It looks very similar to Platinum in that it is silvery white. It is however softer meaning it will mark quicker.
It's around 95% pure meaaning it has very good hypoalergenic qualities and is therefore great for those of you who have allergies.
Resistant to tarnishing as it has so few impurities.
It is easier and therefore cheaper for designers to shape and design as it is softer than Platinum.
Light – paladium is around 40% the weight of Platinum so wider band designs will be less noticible on your fingers and more comfortable to wear. This is especially good if your other half isn't used to wearing a ring (a light ring is easier to get used to).
Although light they paladium is stronger than silver and gold.
Paladium is easy to re-polish if it gets scratched so even though it will mark easier than platinum removing the scratches is very straight forward.
Although it is cheaper than Platinum it is still very rare. It is however gaining in popularity and this will eventually drive up the prices.
Disadvantages of Palladium Wedding Rings:
1. The metal is softer than Platinum so it will scratch more easily.
It can lose its shine over time (but is easily polished).
Over time as popularity increases the prices will increase.
Sorry, I'm struggling to think of any more!
At this stage you may also be considering white gold wedding rings, and there's nothing wrong with that. But by way of a comparison, below is a few things you may want to consider before making your final decision.
White Gold:
Similar in price to Palladium, (around 1/3 the cost of Platinum).
The Rhodium coating which gives white gold its silver appearance can and will wear off over time.
White gold is not very pure (45-50%) so it is NOT hypoallergenic.
It will tarnish and fade over time.
If you still have your heart set on a Platinum wedding ring you can still keep the price down by getting a Palladium wedding band for your other half. Men tend to be a little less fussy about what their wedding ring is made off as they often focus more on comfort and weight and a Palladium wedding band is perfect for these two requirements making it an ideal metal choice for mens rings.
Return from Palladium Wedding Band to Cheap Wedding Rings.

Return to the home page.