Men's wedding rings are just as important!
Yes, men's wedding rings are just as important as the bride's ring after all he'll be wearing his ring for many years to come, so he should feel comfortable wearing it.
That said, if my husband is anything to go by, most men tend to be less fussy, so there are ways of saving money when choosing wedding rings for men.
But don't fall into the trap of assuming the men's wedding rings will be cheaper.
Traditionally the groom's ring will be significantly wider than yours and that means more metal (gold, platinum, titanium, palladium etc.) and more metal means more expense.
Most men's biggest concern is that the ring won't be comfortable (especially if they don't normally wear a ring). So, when choosing men's wedding rings it is important to follow the steps below: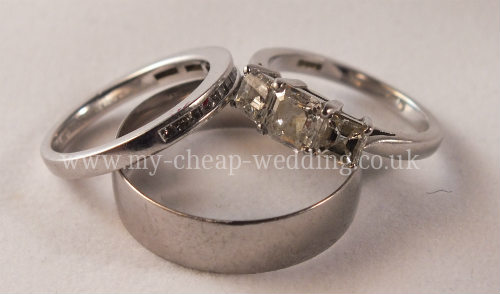 Pick a ring that suits his lifestyle. If you other half has a manual job you may wish to choose a titanium or platinum ring as these are much harder than gold and will wear better and be less likely to scratch.
Pick a ring that's comfortable. You should consider the size of the groom's hands and length of his fingers. Men with large hands often choose a width of 5-7mm and men with smaller hands usually choose 5mm or narrower.

But there are no hard and fast rules, the best thing is to try on lots of different sizes and pick the width that feels and looks the best (again, bear in mind the wider the ring the more expensive).


Profile should also be considered. Soft rounded edges will be more comfortable than square edges and a rounded internal profile will also make the ring more comfortable to wear everyday.

Pick a ring within your budget. This goes without saying but the same rules apply when buying anything for the wedding. Get three quotes and always compare like with like.
Choose the metal carefully. This is entirely down to personal choice; however the type of metal will affect the price and how well the ring will wear. Your cheapest option will likely be silver, then Palladium, Gold and finally Platinum and Titanium. There are others but these are the most popular and you'll also find that the prices will vary depending on where you look. With high street Jewellers normally being more expensive than wholesale jewellers and online ring suppliers. Rest assured there's ways a way to save on your rings regardless of your metal or supplier choice.
Another way to save money is to buy a wedding ring set, however always be careful to investigate the quality of the rings as wedding ring sets can often contain lower quality rings as they rely on the convenience factor to sell the product for them.
Finally, it's not essential that your groom gets a ring to match yours. You may want diamonds or other gem stones to match your engagement ring and your other half may prefer not to have a diamond wedding ring.
Don't get too hung up on what other people think, it's your day and you are the people who have to wear the rings. So when it comes to men's wedding rings (or your own for that matter), go with your own choices, try on as many as possible before deciding on a style and metal. Before checking out all the prices locally and online making sure you are comparing like with like and get at least 3 quotes.
Return from men's wedding rings to cheap wedding rings.