Diamond Wedding Rings on a Budget
As Marilyn Monroe once sang "diamonds are a girl's best friend" and diamond wedding rings (often referred to as diamond wedding bands) are becoming more and more popular.
The problem is that diamonds are really expensive and although we'd all love a big diamond wedding ring, we can't all afford one. But that's not strictly true... Yes you'll have to make a few compromises but that's what life's all about.

I'm sure you're probably like me, I secretly wanted a diamond wedding band but I never really mentioned it as I knew it would be way out of our budget. It was only after doing a lot of research that I figured out that that isn't the case and it is possible to get a diamond ring for a lot less than you might think.
You may have to lower your expectations with regard to the size, quality or number of diamonds, but hey if you've got this far through my site you will know that you have to compromise of certain things.
If you want diamonds but want to keep the price down follow my simple guidelines: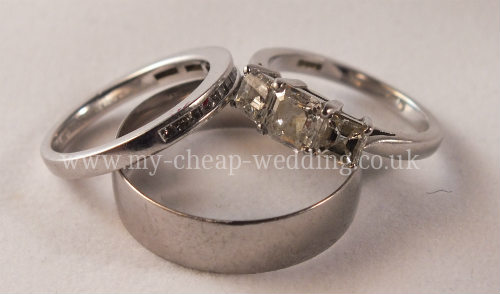 How to buy cheap diamond wedding rings:

Go for small diamonds - by choosing smaller diamonds you'll get away with using lower quality diamonds, the flaws will not be not be visible to the naked eye so no-one will ever think twice about it.
Think about your design carefully - often the easiest (and cheapest) solution is to choose a design with diamonds which don't go all the way round the ring (most people only ever see the top of your ring).
Consider using synthetic diamonds - no-one said your diamond wedding ring couldn't be made from synthetic or as they are also called, cultured diamonds. These are man-made and should not be confused with cubic zirconia. Synthetic diamonds are real diamonds which have been made in the lab. They also are cheaper than naturally occurring diamonds and the naked eye cannot tell the difference. For this reason they are etched to identify them as synthetic diamonds (again not visible to the naked eye).
Consider a narrower ring - by choosing a narrow ring you will use less metal and less metal means a lower price. Similarly, choosing alternative metals can reduce the cost. A Palladium ring over a Platinum ring will reduce the cost (palladium is around 1/3 the cost of platinum). Plus palladium is lighter so the extra weight of the stones will be less noticeable.
Try it on with your engagement ring - always, always try on your wedding ring with your engagement ring to make sure they work together (traditionally the wedding band goes underneath your engagement ring). If it doesn't fit well you may have to get a wedding band altered or custom made.
Your other half's ring - in order to increase your budget you may be able to talk your other half into a cheaper ring men tend to choose their wedding rings for practical reasons like comfort etc. and tend to go for plain bands. If he went for Palladium rather than Platinum you could put the extra to your diamonds (that's what we did). You'll still be able to match his ring to yours.
Haggle - as with any purchase for your big day. Don't be afraid to negotiate, it's always easier to increase an offer than reduce it, so start low. Worst case scenario the jeweller will say no and at that point you can increase you offer. You can even apply the basic principles from my article on negotiating your wedding dress to your rings or anything else in your wedding.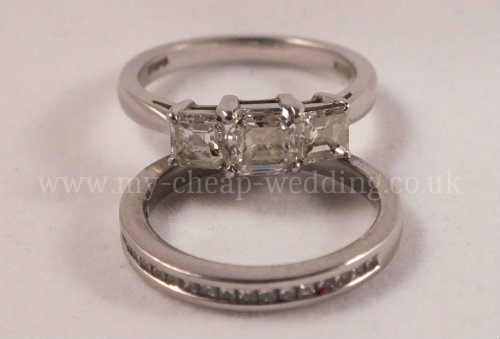 Where to buy your diamond wedding rings:

Buying diamond wedding rings is not really any different to buying any kind of wedding ring. Your three main options will still be:
Online - the internet is full of good quality jewellers who sell high quality products at big reductions. But as always check them out as best you can before buying.

At a wholesale jeweller - most towns will have a wholesale jeweller. They don't always look as fancy as the high street stores but their prices should be much lower. We bought our rings from a wholesale jeweller.

On the high street - the least hassle method as you will be able to try them on and know exactly what you're getting, but you will pay premium prices.

But there is a 4th alternative. You could get your rings custom made by recycling old rings you may already own. There are lots of jewellery makers and silversmiths around the country who will take any old jewellery and melt it down to make your totally unique wedding rings for less than you may think. You can even get this done online.

---
Finally if you really want diamond wedding rings but they just don't fit your budget at present, you can always buy some cheap wedding bands now and upgrade them in the future, maybe on a special anniversary.
Return from diamond wedding rings to cheap wedding rings.