Winter Wedding Dresses.
Why stress when looking for winter wedding dresses? Winter is such a romantic time of year to get married. Think candlelight, log fires and mulled wine, and those getting married around Christmas will benefit from the festive decorations.
With so many beautiful winter dresses to choose from, you're going to look stunning. While the weather may pose more of a challenge to winter brides, it also gives you the excuse to indulge your inner Snow Queen!
At risk of stating the obvious, chances are it's going to be cold! A shivering bride is never a good look so you need to think about keeping warm while outside, but not breaking out in a sweat indoors.
Long sleeves are a great way of hiding the goose pimples, and give a classic look – think Grace Kelly in her fabulous lace creation or Courtney Cox's simple yet elegant long-sleeved style.
Just bear in mind how warm it's going to be at the wedding venue and reception, especially once the dancing starts! Winter dresses lend themselves to heavier fabrics such as duchess satin, taffeta or brocade. These give dresses that sumptuous look and will be warmer than light fabrics e.g. chiffon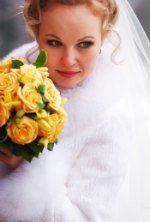 Another way of keeping the chills at bay is to cover up with a bolero, cape or long bridal coat while outdoors. Here you can really go to town with opulent faux-fur and jewel coloured velvet. These have the benefit of being easily removed once you're back indoors. You can complete the look with gloves (long or short) or a faux fur muffler. You'll find plenty of accessory suppliers on the internet or high street.
Winter gives you a great excuse to experiment with richer colours. For brides who want to break from the traditional ivory or white why not consider red, gold or burgundy, for example. Another option is to go for ice blue – this subtle colour would look amazing with shades of silver, grey and blue.
One final thing to bear in mind with wedding dresses during the winter is the length of the train. You don't want your train to get dirty getting dragged over wet or snowy ground. Consider a dress with a shorter train or ask your dressmaker to create a bustle (you'll probably have this done anyway to prevent your dress getting trampled at the reception). And remember to ask your bridesmaids to help with your train!
So enjoy hunting for your perfect winter wedding dress - you're going to look amazing.
Related Articles:
Buy Your Wedding Dress Online
Black Wedding Dresses
Vintage Wedding Dresses
simple Wedding Dresses
Cheap Plus Size Wedding Dresses.
Design Your Own Wedding Dress.
Used Wedding Dresses.
Beach Wedding Dresses.
Cheap Wedding Dresses.
Celtic Wedding Dresses.


---
If you enjoyed this page, you can subscribe to my monthly e-zine called Cheap Wedding Gems. In it I will send you regular articles with all my latest tips and advise to show you how to save even more money.
Plus I will send you a FREE wedding spreadsheet that makes setting your budget, organising the invites, RSVP's and remembering who sent what gifts, childsplay. There's even a free table planner tool.
So...Just fill out the table below and click submit.
---
Return from Winter Wedding Dresses to Cheap Wedding Dresses.
Return from Winter Wedding Dresses to My-Cheap-Wedding homepage.