Wedding Hair Pieces
Wedding hair pieces can be a god send if you have very fine or thin hair which is difficult to style.
Perhaps you want a full, thick hairstyle on your big day to give that wow factor as you walk down the aisle in front of all your friends and family and for the wedding photos.
Or perhaps you want the perfect updo but your hair isn't long enough. Either way wedding hairpieces may be just what you are looking for.
In the past they were a lot of hassle as they had to be glued in, however modern hair pieces provide the option of clipping or glueing.
The main benefits of clip in hair pieces:
- Clip in extensions are cheaper than permanent extensions.
- If done correctly they can look just as convincing.
Within each type i.e. clip in or permanent there are two types available.
Natural hair extensions.-

Pros.
- Natural hair can look more realistic as it's real human hair.
- It can be dyed if the colour choice does not match perfectly.

Cons:
- Natural hair doesn't have any 'memory' so the style will gradually fall out in damp or humid environments.
- Natural hair is more expensive.


Synthetic hair extensions.-

Pros.
- Cheaper than natural hair pieces.
- If done correctly can look natural.
- Synthetic hair has 'memory' so the style will not fall out if it's damp or humid. So if you know there's a good chance your venue will be humid or damp, then synthetic hair pieces may be the best option for you.

Cons.
- Can be more difficult to style as it can burn with heated curling tongs etc. unless you're very careful.
- It can't be dyed, so you need to be very careful when choosing the colour.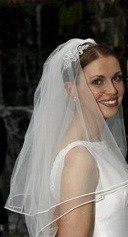 Choosing Your Hairpiece:

When choosing the right wedding hair piece you'll have to consider several things:
Ornate wedding dress -  If your dress is very ornate you'll likely want to keep your hairstyle quite simple such as a simple updo. In this case you could choose either synthetic or natural extensions.


Simple Wedding Dress - If your dress is very simple and elegant you can get away with any hairstyle you want.


Location of your wedding - If you've chosen a more complex hairstyle you'll need to consider the location. As mentioned above, in damp or humid locations synthetic hair will hold the style better than natural hair.


Do you want a veil? - Another consideration should be whether or not you're going to be wearing a veil. If so, the constant movement can affect your style, so if this is the case a synthetic hair piece will resist this better than a natural hair extension.
Whichever type of hairpiece you decide to go with, leave yourself enough time to allow for delivery and several trial fittings. You should also check the return policy in case the hair colour is wrong when it arrives.
As with choosing your wedding hairstyle, there are several things you'll need to consider before making your final decision on wedding hair pieces. But, as with anything wedding related, use all the information I've provided and you should be able to make an informed decision.
Once you've decided, there are lots of suppliers online where you'll find a huge array of hairpieces, wedding hair combs, wedding tiaras and accessories which should all fit into your budget and make your hair look and stay perfect during your wedding day.
Return from Wedding Hair Pieces to Wedding Hairstyles.

Return to the home page.