Very Cheap Wedding Invitations
If you're after very cheap wedding invitations and really serious about keeping the cost of your wedding down then keep reading.

Hopefully you've already read my page on Cheap Wedding Invitations and have managed to get some ideas for the style of your wedding invites.
As you may have already found out, wedding invitations and other wedding stationery can be very expensive. Maybe it's just me, but I really don't see the point in spending a small fortune on a piece of card that usually ends up shoved in a drawer.
Your priorities might be different to mine, but I was quite happy to cut back on the wedding stationery spend if it meant being able to spend a bit extra on higher priority items. Can you remember what the last wedding invite you got looked like? No, neither can I!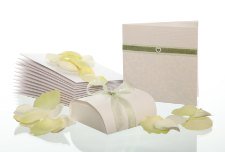 One thing that we did was to do away with RSVP cards. In our invites, we asked guests to RSVP by phone or email. Given that we now live in the internet age plus the rising cost of stamps, I was reluctant to provide postage-paid RSVPs.
Yes, postage-paid RSVPs speed up replies, and you could always provide your guests with RSVPs that they pay the postage for, but I thought it was time to get into the 21st Century!
Some of you might be aghast at the thought of not providing RSVPs, but for me it was just another opportunity to reduce costs. We did find however that this unconventional approach was a bit alien to some of our older guests, and they stuck with the traditional RSVP card. Younger guests really embraced it however.
On the whole I think it worked well and, more importantly, saved us a significant chunk of money!
If you're really serious about keeping your wedding invitation costs down, you can always go one step further and go paperless altogether. While it may not be traditional, there's nothing to say invitations can't be emailed.
You can design the invitation yourself and it costs nothing to send. Again, this approach may be a step too far for the more traditional brides and grooms-to-be, but it might be worth thinking about if your budget is really tight.
If it's very cheap wedding invitations that you want, it pays to think outside the box. Are you willing to do without RSVP cards and embrace the electronic age? Can you ditch the paper altogether?
Tradition may dictate the format that wedding invitations normally take, but who says you need to follow convention? If it means helping to keep your wedding on budget, you can choose to buck the trend!

Return from Very Cheap Wedding Invitations to Wedding Stationary.