Fun Wedding Invitations
Fun wedding invitations are a perfect way to express your individual personalities. Gone are the days when wedding invitations had to be a stuffy, formal affair.
Nowadays you can have whatever you want – if you can't find a design you like why not create your own?.
There are lots of commercially available funny wedding invitations, both online and on the high street. My personal favourites are those designed around themes that match your personality or interests, like a circus poster, or a 'Wanted dead or alive' style poster. Or the 1950's black and white housewife style invitations, complete with witty caption are very clever.
Make them yourself:

Create a really personal style invite by using photos of yourselves, either current ones or cute/funny pictures from your childhood. If you're handy with photo-editing software, you can really embrace your creative side.
Add a funny caption and you've got your own personalised fun invitation. Think of your heads superimposed on a picture of an elderly couple eating fish and chips at the seaside! The sky's the limit – you're only restricted by your imagination.
What's more if you can turn on a computer you'll be able to edit your pictures. Honestly it's much easier than you think.
I bought the image above and just added the caption, but you could easily paint your nails and take the picture yourself.

You can even get software for your computer that will convert your photos into cartoons of you and your partner. Try to include aspects of your lives e.g. hobbies or pets or include the style of your wedding such as beach wedding invites or fifties style invites. Basically anything that will make your guests think of you when they look at your invites.
Because of the skill involved in creating cartoon-style wedding invitations you can expect to pay more. However, if you're artistic or have an artistic friend or relative perhaps they could do this for you as a wedding gift?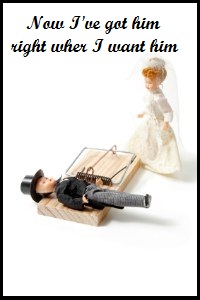 If you've got a good idea for fun wedding invitations but can't find exactly what you're after, why not talk to a local print shop which may be able to turn your idea into reality? Their prices are likely to be more competitive than the specialists!
Remember, when creating your fun invitations you don't have to be tied to the traditional wedding invitation wording - you can be as witty or tongue-in-cheek as you like. Just think about who you're sending them to and try not to offend your guests! Check out my article on wedding etiquette for more information and if you still want something easier have a look at my really simple invites section.
So you see, there are lots of ways of creating your fun wedding invitations. Get your thinking cap on and enjoy it.
Return from Fun Wedding Invitations to Cheap Wedding Invitataions.