Simple Wedding Invitations Made Easy
The beauty of making simple wedding invitations is that they are just that, simple. They're easy to make, cheap and don't take up as much of your time as intricate designs.
Maybe you feel that your wedding invitations are an area where you shouldn't scrimp and if that's how you feel then I wouldn't argue with you. Everything in your wedding is specific to your tastes and requirements.
If however you're of the opinion that reducing the cost of your invitations is a priority then keep reading.
There are literally hundreds of different ways of creating simple wedding invitations that can result in very cheap wedding invitations. So much so I couldn't possibly cover them all here. Instead I'll go through a few of my personal favourites and with a little luck they'll appeal to you as well, or at least inspire you to come up with some of your own.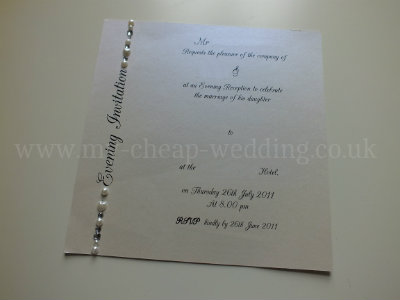 Postcard style wedding invitations:
A

rguably one of the easiest methods of creating simple wedding invitations as you don't have to try and keep text lined up when making your folds. You simply come up with your design and wording for the front of your postcard style invitations (this can be a picture of you and your partner, an image you like or simply your chosen text).

If you're not sure of the etiquette involved when writing wedding invites check out my article on invitation etiquette for ideas.

It's then very straightforward to place text over your images with your PC's editing software (most come pre-installed with photo editing software that's easy to operate). Then buy some decent quality card or photo quality paper and print your image onto the paper. Personally I think card with a slight metallic sheen looks very good.

Next step is to print your message and details of your big day on the back of the card and hey presto, your simple wedding invitations are ready to post out. One word of warning, just because it's a post card style wedding invite don't be tempted to just stick a stamp on it without an envelope.

If you do you could end up with more guests than you expected or an unwanted guest at your house helping themselves to your wedding presents while you are at the service, always use an envelope unless you are going for seal and send style invitations.
Simple wedding invitations online:
There are a huge number of companies who offer online wedding invitations and it is a low hassle way of getting your wedding invitations done. All you have to do is choose one of their designs and fill in the message you want and your guest's details etc. and click a button, it really is that simple.

It will however cost you a bit more. If you're not careful you could end up paying around £2 per invite if you are ordering small numbers, although the price should drop the more you buy. These invites will likely be of professional quality (ask for a sample) but you will lose the personal touch as they are mass produced.

You should also bear in mind that you will likely want to get place settings, menus, orders of service etc. to match and this all adds to the overall cost.
Picture wedding invitations

Picture wedding invitations are incredibly personal and as above very easy to create. You can make them in the traditional folded style or in a postcard style.

The only difference is for the folded style you will have to mark and fold you card carefully to ensure your text on the inside of the card is straight.

If you are struggling to get the text to line up correctly you can just print the text on a separate piece of paper and stick itinside the invite. Alternatively you could take your image to a local print or copy shop and ask them to use your image to make the cards for you (this is what we did and the results were great and much cheaper than you might think).
Free printable wedding invitations:
Yes believe it or not, getting free wedding invitations is possible. There are many websites out there that offer you FREE printable invitations.

Surely there has to be a catch? Well yes and no, they do offer free designs on which you can alter the wording and choose from a limited number of designs before simply printing these out onto your own paper.

So what's the catch… they normally offer a quite restrictive selection of fairly basic designs in the hope that you will upgrade to a "better" design that you have to pay for. But, as long as you stick to the free options you only have to worry about the cost of paper, ink, envelopes and stamps.
---
As you can see these are very straight forward methods of creating your simple wedding invitations that doesn't take up much of your time, yet they can still be very personal and beautiful. You can also easily apply these principles to your save the date invitations and other types of wedding invites.

Don't forget the invites get looked at on the day they arrive and then they get set in a cupboard or a hall table until your guests get round to replying. It's not worth blowing your budget on them. After all wouldn't you rather spend the money you could save on your invites on your shoes or put it towards your honeymoon?
Related Articles:
Make Your Own Wedding Invitations.
Return from Simple Wedding Invitations to Cheap Wedding Invitations.

Return to the home page.