New Look and Feel
Welcome to the latest issue of "Cheap Wedding Gems".
This e-zine will keep you up to date with all my latest tips and money saving ideas for your perfect cheap wedding day.
If you enjoy this e-zine and know someone who is getting married please forward a copy to them so that they can benefit from the various articles.
If this e-zine was forwarded to you by a friend and you would like to see more then please follow this link to see how you can sign up for future issues (don't worry it's completely FREE).
---
Contents:
- Our New look and feel- We've updated the look and feel of the website and our ezine!

- Latest articles on my-cheap-wedding.

- Tip of the month.

- Final thought.
---
Our New Look and Feel
Welcome to the first copy of my new look ezine. I decided recently that I wanted to update the look and feel of the website and ezine. So this last month I've been busy rebuilding the site and I do hope you like it.

It's been a lot of work and it's only the first in a list of improvements I hope to introduce over the next six months or so. So keep stopping by to say hello and see how we're improving things.

If there's something you would like to see included withing my-cheap-wedding.co.uk please get in touch and let us know.
---
Latest articles on my-cheap-wedding.co.uk

Negotiate a cheap wedding dress.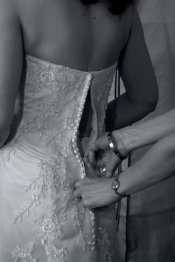 Following on from last month's tip of the month I decided to add an article on negotiating your wedding dress (and anything else).

One of the biggest hurdles I faced during the lead up to my wedding was getting to grips with negotiating the various aspects of my big day.

The first item that I cut my teeth on was my wedding dress and I'm quite happy to admit I was terrified. I'd never really negotiated anything in my life so Jeremy (my husband) took me on a few trial runs to teach me how.

There are a few rules which you will need to try and figure out and the only real way to learn them is to get into shops and practice your negotiating techniques. But once you get the feel for negotiating there will be no stopping you. Check out my latest article on negotiating your wedding dress and see for yourself just how simple it can be...
---
Tip of the month.
Consider your guests who are travelling to your wedding.

If you've got guests who aren't from the area and are likely to want to take a few extra days to sightsee, make sure you help them out.

Make up packs for these guests giving them details of what there is to see and do in the area. Include details on the following:

- Are there any local attractions worth seeing? You know the local area better than they do, so don't assume that they will know where to go.

- Is there anything they should check out that is off the beaten track that they might like to see?

- give them details of alternative hotels in the area and all the various transport links.

- Include maps of the area showing the points of interest etc. These are easy to make up with google maps.
---
Final Thought
I hope you like the new look and feel and I hope to be able to add more things shortly that will improve your experience and make your wedding planning easier.

Until next month...


P.S. Why not send this to a friend who is getting married, you might just save them a fortune!

If this was sent to you by a friend and you enjoyed it, then click here to see how to go about signing up for more copies of my FREE money saving e-zine and get a complementary wedding planner.