Wedding Venue Questions
That You Must Ask!
Wedding Venue Questions:
Choosing a wedding venue entails more than just picking one that you like the look of or is convenient to your home or the church. There are dozens of issues you need to consider and each of those can lead to other things you may not have thought of.
As I've been down this road myself I have compiled a list of questions that should cover most eventualities. Take some time and read through them. You will likely find that some of them won't apply to you and if that's the case you can ignore them.
This list of questions to ask your wedding venues isn't exhaustive. The idea is that as you read through them they may spark an idea for another, more specific question that applies to your individual situation. Make a note of these and in a short time you will have a complete set of bespoke questions tailored to your wedding requirements.
Preparation:
I would suggest printing out a list of questions for each wedding venue, so if you have three shortlisted venues, print three lists of questions. If you then put the name of each wedding venue at the top of each list you will have a record of how the individual venues responded to your questions.
I would also suggest you should leave at least 1 blank page at the back of your question lists for additional comments and notes you will take while at each venue.
Don't underestimate how good an opportunity you have to gather information. So it's important to get your questions right. Read through the following wedding venue questions and add any specific questions you need to ask. Familiarise yourself with all of them before going to the venues and make sure that you know exactly what your requirements are for each question you ask.

The Wedding Venue:
Transport:
Where is the nearest public transport for your guests? This is especially relevant in big cities.
Accommodation:
What discount will your guests get if they book an overnight room? Bear in mind if the discount percentage is small your guests may be able to get a better rate by calling the venue themselves and booking early.
Is the bridal suite and breakfast included in the price? If not it should be!
What time is checkout for your guests the next morning?
The Bar:
Do they have a bar? If so, what time does it close? Get a list of the bar prices your guests will pay, it's not unheard off for venues to increase the cost of drinks as the night goes on and don't assume they will pay the same price as in the hotel bar.
Do they insist on providing the drinks for the tables and toasts or can you provide these? If you can provide your own, ask what their corkage rate is.
The Music:
Where will your band set up and do they need to set up before the reception starts?
Do they have an additional P.A> system you can use for use with an MP3 player if you want to do your own music/playlists?
Is there an adequately sized dance floor/area?
Are there noise restrictions or can your DJ or band turn the volume right up?
Where are the guests' bedrooms in relation to the music? Are you likely to get complaints from other guests meaning you have to turn the music down?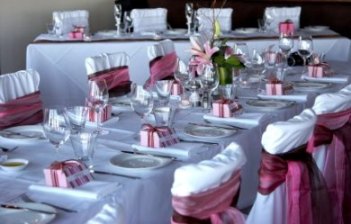 Catering:
How many people can they cater for?
Do they insist on doing the catering or can you provide your own catering. If doing your own or bringing in an outside company ask what facilities are available and ask to see them.
If the venue is doing the catering can you sample the food? They may charge you for this.
Ask what is included, such as table cloths, cutlery, etc. If you are doing your own catering this is very important as it could save you money if they will provide them.
Do they have a cake stand and knife that you can use?
Ask for a copy of their sample menus with full costs.
General Questions:
What is the total cost? Be blunt and ask them if there are any potential hidden extras. Get them to confirm this in writing.
What are the payment stages?
What is their cancellation policy?
Do they have a licence to perform civil ceremonies? If so ask them which local authority area it comes under and get the contact details for them so that you can get your wedding licence etc.
How many weddings do they allow each day? If there is a possibility of a second wedding on the same day ask how close the other room is to yours and if there is a chance of guests getting mixed up?
If you would like professional fireworks ask if they are allowed and if the venue has any specific health and safety requirements?
Is there an area where wedding presents can be stored safely?
If so, are the presents insured against theft and/or damage or do you need to arrange your own insurance cover?
Finally, read and re-read the contract before signing. If you are unsure about anything ask them to explain it again.
It might seem like a lot of questions to ask the wedding venues, but by being prepared, you will let the venue know that you are organised and that you know what you're talking about! Being confident and well prepared will also help with your negotiation when it comes to agreeing on the final price.
It will also mean that you cover all your bases and shouldn't get any nasty surprises after you sign the contract. Finally, enjoy yourself – picking your venue is one of the best parts of planning your wedding!
Return from Wedding Venue Questions to The Venue.

Return to the home page.