An Amazon Wedding.
Welcome to the latest issue of "Cheap Wedding Gems".
This e-zine will keep you up to date with all my latest tips and money saving ideas for your perfect cheap wedding day.
Don't forget to check out the "my-cheap-wedding" facebook page If you enjoy this e-zine and know someone who is getting married please forward a copy to them so that they can benefit from the various articles.
If this e-zine was forwarded to you by a friend and you would like to see more then please follow this link to see how you can sign up for future issues (don't worry it's completely FREE).
---
Contents:
- An Amazon Wedding Don't dismiss Amazon when it comes to getting your cheap wedding accessories.

- Latest articles on my-cheap-wedding.

- Tip of the month.

- Final thought.
---
Amazon for Cheap Weddings
We've all been there. Spending countless hours in front of the laptop trying to find that little accessory that would make your wedding complete. Only to be blinded by dozens of different websites only to end up giving up.

I've been there too and I've got to say I invariably ended up coming back to good old Amazon. We all use it on a regular basis but for some reason when planning my wedding I kept overlooking it.

It was my husband that kept pointing me back towards it. The beauty of it is you know you can rely on their postal methods and they make their vendors stand over undelivered or faulty items. So you know you'll get what you ordered.

I've listed a few of the items that I found helpful here but do feel free to browse their various wedding sections. You'll be amazed what you can find.
---
Latest articles on my-cheap-wedding.co.uk

Very Cheap Wedding Invitations.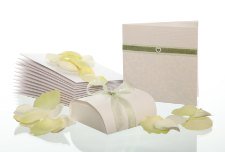 Very Cheap Wedding Invitations - a topic that is pretty much guaranteed to split a room.

Some brides and grooms love the opportunity to save on the wedding invites but going down the non-traditional route. While others will be shocked at the very thought of it.

We're all individuals and are free to make our own choices but I personally didn't want to spend a lot of money on wedding invitations that were likely going to be put into a drawer for a few months.

If you're of the same opinion then here's an article to help you futher reduce the cost of your already cheap wedding invitations.
---
Tip of the month.
Don't be selfish with your time:
You'll have to excuse me being a little nostalgic, but I just attended my friend's father's funeral yesterday and it made me think.
It's easy to get immersed in the planning of your perfect wedding day to the extent that you can risk forgetting what's really important.
I know it can take up a lot of your time and can be stressful. But remember to set aside time (on a regular basis) for your other half and just do something selfish for yourselves (don't talk about the wedding).
Take the time to reflect on enjoying each other's company and remember the wedding is just a 12 hr. period out of the rest of your lives together. It's important to keep reminding yourselves of that.
Anyway that's the end of my little sermon (for this month anyway)!
---
Final Thought
Now that the clocks have gone forward an hour we can all get out more in the evenings.

Use this extra time wisely and go back to your venue to check out the best spots for wedding photo opportunities.

Until next month...





P.S. Why not send this to a friend who is getting married, you might just save them a fortune!
If this was sent to you by a friend and you enjoyed it, then click here to see how to go about signing up for more copies of my FREE money saving e-zine and get a complementary wedding planner.