Wedding Mistakes.
Welcome to the latest issue of "Cheap Wedding Gems".
This e-zine will keep you up to date with all my latest tips and money saving ideas for your perfect cheap wedding day.
Don't forget to check out the "my-cheap-wedding" facebook page.
If you enjoy this e-zine and know someone who is getting married please forward a copy to them so that they can benefit from the various articles.
If this e-zine was forwarded to you by a friend and you would like to see more then please follow this link to see how you can sign up for future issues (don't worry it's completely FREE).
---
Contents:
- Wedding Mistakes some of the most common mistakes made by brides to be.

- Latest articles on my-cheap-wedding.

- Tip of the month.

- Final thought.
---
Top Wedding Mistakes
It's so easy to get carried away amidst the excitement of getting engaged and planning your wedding. But please take note of the following mistakes that are very easy to fall into.

1. Booking vendors prior to establishing your budget - never book a vendor until you have established your budget, obtained a few quotes and negotiated. You will just end up overspending and eating into your budget for other items.

2. Overspending - a natural follow on form point 1 above. Take your time when setting your budget and then stick to it. Don't be tempted to overspend. But if you do remember that an over-spend on one item means you have to underspend on something else to keep your budget on track.

3. Leaving your dress purchase too late - remember that there is a good chance your dress will need to be altered to make it perfect so order your dress as early as you can to allow for the time needed to carry out such alterations.

4. Incorrect postage - I see this all the time. Consider the size and thickness of your cards (especially if homemade) as both aspects can affect the cost of postage. If they're over 5mm thick or larger that 240mm x 165mm it'll push them into a more expensive postage rate.

5. Going it alone - many of you will want to organise your wedding yourself and that's great but if family and friends offer to help let them. Don't look at it as losing control, rather as delegating tasks to free you up more to oversee everything.

6. Crash diets - Trust me they don't work. They'll just make you miserable and moody and when you come off it you'll put more weight back on. Be sensible, start early and cut out the junk and sweets. Take regular (daily) exercise such as walking, jogging or simply taking the stairs instead of the lift. You'll be amazed at what you can achieve if you're sensible about it.
---
Latest articles on my-cheap-wedding.co.uk

Wedding Guest Gift Ideas.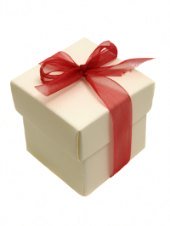 Wedding guest gift ideas and wedding favours can be difficult to decide on. Especially if you want to keep costs low and still give unique gifts.

I know what it's like when you hit that mental block when trying to come up with ideas so in this latest article I give you a few ideas to help get your creative juices flowing...
---
Tip of the month.
Eat Sensibly :
I think this is quite appropriate given the time of year. We all (myself included) tend to over indulge a little on the mince pies etc. during the festive period only to panic when we next get on the scales and realise how close our wedding is.
Well I'm not one for advocating crash diets, (my other half used to be a personal trainer and he'd shoot me if he thought I was telling you that "diets" work). So instead I just want to give you the same advice he gave me.
Don't go on fad diets, just eat sensibly and take some form of exercise every day.
To clarify:
1. Cut out the sweets and fatty foods (the stuff you know is no good for you) and replace them with fruit and veg.
2. Go for a walk every day, when the walk is easy introduce some light jogging (i.e. walk for 10 minutes and then run for one minute) increase this gradually and before you know it you'll be jogging constantly. (But, always consult your doctor before starting an exercise programme).
---
Final Thought
Relax and enjoy the New Year but don't forget to set yourself a few goals for 2013. They'll help keep you motivated and focused on your wedding goal.

Until next month...





P.S. Why not send this to a friend who is getting married, you might just save them a fortune!
If this was sent to you by a friend and you enjoyed it, then click here to see how to go about signing up for more copies of my FREE money saving e-zine and get a complementary wedding planner.