Wedding Guest Gift Ideas
Are you struggling to decide on wedding guest gift ideas or wedding favours?
If so, don't panic. There are lots of different ways to come up with original and affordable wedding favours that will still look great and impress your guests.

As with all things associated with a cheap wedding it's really important to stick to your budget. I've said it before in other articles but it's worth repeating. It's so easy to find something that you really like and buy it because "it's only a little over budget".

Trust me, once you go down that route costs can quickly snowball. Ten over spends of just £50 adds up to a £500 pound overspend. Don't get me wrong, it's ok to amend your budget as you go along. But if you up your budget on one item you'll have to reduce it on another.

I find the best way to look at your budget for wedding guest gifts or favours is to break it down per guest. So if your budget for the favours is £100 and you have 100 guests, then you obviously have £1 to spend on each person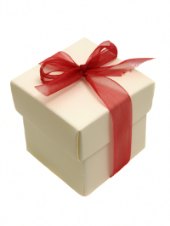 Theme:
Now that we've established the budget rules you're ready to start thinking about those wedding guest gift ideas. It's always a good idea to incorporate your theme into the wedding favours. This can be as simple as introducing a theme colour to your wedding guest gifts.

DIY or Buy?

This will depend on how creative you are and how much time you're prepared to spend on this item (the DIY option often takes longer than you first think). If you're tight for time and still have lots of other things to do, think carefully. There may be another alternative to making them yourself.

DIY:
DIY looks great if done well, but can look really DIY (if you know what I mean) when done poorly. The secret is not to over complicate things. DIY can be as simple as buying some items and adding a very simple personal touch, through to making everything from scratch.

Personally I'm all for buying items and then personalising them to suit your theme. For example decorating small gift boxes and placing a single chocolate inside. I've seen this done at several weddings and it looks very simple yet very effective.

Another idea is to use paper bags (with a flat bottom), fill them with a few goodies (e.g. sweets, scented tea lights, plant seeds), fold the top of the bag over and seal them with clothes pegs. You could even decorate the outside of the bag with a personalised message by making a stencil and then spray painting it onto the bags.

How about small jam jars with some different types of sweets layered inside and then finished with a circle of fabric over the lid for a kitsch, country-fair feel? Or you could use colourful paper cones which you can make yourself. You could even write your guests name on them and you won't need to buy or make place cards.

There really is no need to over complicate things. Why not buy some cellophane bags, fill them with sweets or popcorn, then personalise them with name tags for each guest? Trust me, your guests will love anything that is personalised and, as above, it does away with the need for place settings.

Maybe you're into cooking? If so, why not make personalised cookies which you could decorate with a thank you message or something personal such as "love" or the date of your wedding day etc.
Buy:
As I've said before you don't have to make your gifts. You can find lots of wedding guest gift ideas online or on the high street and then personalise them yourself.  

One I came across recently which I thought was very clever was personalised chocolate bars. Chocolate is always a winner, right? The company provides the chocolate bars and pre-printed labels. You just have to assemble them. We did something similar for our wedding using well known sweets with message printed on them – it was so easy!

So you see, there are lots of ways to achieve wedding guest gift ideas that won't blow the budget. Get your thinking cap on and I have no doubt you'll be able to come up with some fantastic and cheap wedding favours.

Return from wedding guest gift ideas to the decorations section