Cheap Wedding Rings.
Welcome to the latest issue of "Cheap Wedding Gems".

This e-zine will keep you up to date with all my latest tips and money saving ideas for your perfect cheap wedding day.

If you enjoy this e-zine and know someone who is getting married please forward a copy to them so that they can benefit from the various articles.

If this e-zine was forwarded to you by a friend and you would like to see more then please follow this link to see how you can sign up for future issues (don't worry it's completely FREE).
---
Contents:
- Cheap Wedding Rings - Get rings that look expensive but don't cost the earth.

- Latest articles on my-cheap-wedding.

- Tip of the month.

- Final thought.
---
Cheap Wedding Rings - Cheap or Chique?
We all accept that the wedding rings are one of the most important symbols of the wedding day and let's face it they are the permanent reminder that you will carry with you every day of your lives from here on.

So how do you go about getting rings that look a million dollars but don't cost it. Believe it or not there are little tips and tricks you can use to save money when looking to buy cheap wedding rings (even on the high street)...
---
Latest articles on my-cheap-wedding.co.uk

Palladium Wedding Bands.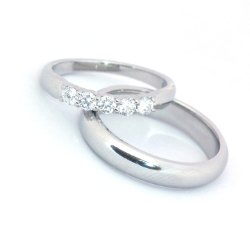 It is likely you may not have heard of Palladium or know much about it. Truth be told, a few years ago I would be amazed if you had heard of it. I am of the opinion that it is one of the best kept wedding ring secrets of recent years and I'm not the only one promoting them as a great way of getting the platinum look at a third of the cost (approximately).

Palladium is starting to sweep the jewellery world as the new must have material to have your wedding rings and other jewellery made out off and a palladium wedding band has a lot of advantages over more traditional metals...
---
Tip of the month.
Bring a note-book to bed
I know what it's like when organising a wedding. You want everything to be perfect and you have so many things buzzing around in your head that if you don't write them down as and when you think of them they will go out of your head and you can forget about them.
One easy way of avoiding this is to get yourself a little note book that will fit in your handbag. You can then have it with you at all times including when you are in bed when your ideas appear.
An alternative is to download an App for your phone or tablet that you can use to make lists and reminders such as "Evernote", "To-Do-Queue", "Bento" etc. there are hundred available and if you're a bit of a gadget fiend then they can be very helpful.
---
Final Thought
Don't be afraid of asking friends or family to perform certain tasks that you would otherwise have to pay for. And don't feel embarrassed about doing so, everyone does it even Charlotte Church.

The famous Welsh singer has just spoken about how she accepted good press in return for singing at Robert Murdoch's wedding.

So if Charlotte Church can do it then so can you.

Have you got your FREE planner yet for whatever reason, just click this Free wedding planner link to it. Then simply open the zip file and you're ready to go.

See you next month,


P.S. Why not send this to a friend who is getting married, you might just save them a fortune!

If this was sent to you by a friend and you enjoyed it, then click here to see how to go about signing up for more copies of my FREE money saving e-zine and get a complementary wedding planner.