Cheap wedding tips
Welcome to the first issue of "Cheap Wedding Gems".

This e-zine will keep you up to date with all my latest tips and money saving ideas for your perfect cheap wedding day.

If you enjoy this e-zine and know someone who is getting married please forward a copy to them so that they can benefit from the various articles.

If this e-zine was forwarded to you by a friend and you would like to see more then please follow this link to see how you can sign up for future issues (don't worry it's completely FREE).
---
Contents:
- The Food - Potentially your biggest expense.
- Latest articles on my-cheap-wedding.
- Tip of the month.
- Final thought.
---
The Food - Potentially your biggest expense!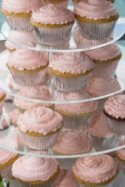 No matter how many guests you are inviting, the cost of your food will likely be one of you biggest expenses. Typically venues can charge around £25-£35 per head (or even more!).

There are several ways of reducing this cost:

1. Cater yourself - this is not for the light hearted as it involves a lot of planning and organising. Potentially it is the cheapest option, if you get it right.

My top tips for DIY catering are:

Plan early - that way you can make the most of special offers at local supermarkets and suppliers.

Buy locally - speak to local suppliers e.g. butchers, tell them how much product you will need. Once they know you will be buying a substantial amount you will be able to negotiate a better price and get the higest quality products. They will also be able to offer you their professional knowledge. For example, how to store the produce correctly and how to cook and chill it properly. The last thing you want is some of your guests coming down with food poisoning. You can also check out your local Enviornmental Health Agency web pages for more tips on food storage/cooking etc.

Rent the plates and cutlery - believe it or not this is normally cheaper than buying cheap disposable plates and plastic cutlery (not to mention greener and it will look much better).

Serve cold food - this reduces your need for expensive catering ovens etc. as cooking/heating food on the day will add untold stress.

If you want hot food consider getting an external caterer to do a barbeque or pig roast as these tend to be cheaper than traditional meals.

2. Bring in a professional caterer - The first thing you should do is have a meeting with the catering firm and tell them what your budget is. Ask them if they can work within that budget, if not, move on to the next, if so, great.

My top tips for professional catering:

Make sure you get on with them - this will be an ongoing relationship so it is very important that you get on well. Plus if they like you they will do their best to help you out during the process (this applies to all external suppliers).

Make sure they are reputable - get references, make sure they are registered with your local Environmental Health Agency, only use fresh produce and try samples before you comit.

For more tips on wedding catering click here.
---
Latest articles on my-cheap-wedding.co.uk
Is the thought of dealing with the wedding plans and organising everything getting you down? If so there are alternatives, why not go to Las Vegas and get married with a few of your closest friends and family? The beauty of a Vegas wedding is you can do it very quickly. How about next week? The beauty of Las Vegas is you can get married as low key or over the top as you want.

You could have a very classy wedding at one of the big hotels with everything organised by the in-house wedding planners or do it yourself and get married by "The King" in one of the hundreds of wedding chapels Vegas has to offer.
---
Tip of the month.
Simple ways of reducing you food costs:
1. Have your wedding later in the day so you don't need to have a big meal. Then use simple finger food, sandwiches, sausage rolls, etc. These are simple to prepare, easy to store and everyone loves them.
2. Use simple fish and chip cones. Thes are becoming very popular and if you dress them up well they can look very chique. At our wedding we first rolled simple newspaper cones and then put in a few chips and fish gougons - et voila, a very simple and cheap finger food. We got lots of very positive comments after the wedding about the fish and chip cones.
3. Use you cake instead of a dessert to keep costs down, especially if the cake isn't a very rich fruit cake.
---
Final Thought
As the food is such a large part of your budget, some careful planning at this stage can save you a lot of money. For example with a little tweaking, my friend was able to reduce the cost of each meal at her wedding by £7.50. That may not seem like much but with 125 guests it meant a total saving of £937.50. So, as my Mum constantly reminds me "look after the pennies and the pounds will look after themselves".

See you next month,

Helen x

P.S. Why not send this to a friend who is getting married, you might just save them a fortune!

If this was sent to you by a friend and you enjoyed it, then click here to see how to go about signing up for more copies of my FREE money saving ezine.