Your Free Wedding Planner.
Welcome to the latest issue of "Cheap Wedding Gems".

This e-zine will keep you up to date with all my latest tips and money saving ideas for your perfect cheap wedding day.

If you enjoy this e-zine and know someone who is getting married please forward a copy to them so that they can benefit from the various articles.

If this e-zine was forwarded to you by a friend and you would like to see more then please follow this link to see how you can sign up for future issues (don't worry it's completely FREE).
---
Contents:
- Your Free Wedding Planner- What do you think of it and would you like to see anything else added to it?

- Latest articles on my-cheap-wedding.

- Tip of the month.

- Final thought.
---
What do you really think about the free wedding planner?
As you already know when you signed up for this cheap wedding e-zine you got access to a copy of my free wedding planner and I would love to get some feedback as to what you think of it? Do you use it and if so are there any things you would change about it or are there any things you would like to see added to it?
Perhaps you would like more details in the budget section or perhaps a column showing amounts you have already paid to suppliers with balances due?
Would you like the guests names laid out in a way that you can do a mail merge to print out labels for invites etc. (it can be a little complicated but might be worth the effort if you have a lot of guests).
Maybe you can think of something that isn't on the free wedding planner that you would like to see added. Don't be shy, I am open to suggestions.
If you do have any suggestions or feedback please let me know as I want to make sure I am providing a useful planner that will make your life a little simpler.
---
Latest articles on my-cheap-wedding.co.uk

Easy Wedding Decorations..
Easy wedding decorations are a must have if you are tight for time or just don't want the hassle of having to spend hours faffing about with decorations that take for ever and make up and place in your venue.

Basically the sort of wedding decorations that appeals to me...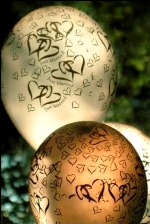 ---
Tip of the month.
If you have a good idea for a venue stick with it! :
I have often had brides to be contact me to say that they had come up with an unusual wedding venue but that their friends or family put them off the idea and they have ended up settling for a traditional venue.
My advice is simple; if it is special to you or has special meaning to you and your other half don't let anyone talk you out of it. Unusual venues can make a wedding, the more unusual the better. One of the most important things about your wedding is getting the atmosphere right and an unusual venue will certainly get the guests talking and talking guests creates atmosphere.
As an example a couple in Maryland met in Ikea and two years later they approached Ikea to see if they could get married in the store. Guess what? Ikea said yes and didn't even charge them for it. The guests all had Swedish meatballs and guess which wedding each of guests will remember for the rest of their lives? It certainly won't be the run of the mill wedding venues they attended.
If you like the venue and it means something to the two of you go for it. Unusual venues tend to be cheaper as well, although I can't guarantee that you'll get it free like the above couple (but you never know).
---
Final Thought
Take inspiration from the above couple who got married in Ikea, not only did the venue cost them nothing, the food bill was tiny and guess what the guests sat on, yep... Ikea chairs (not a chair cover in sight). And I don't need to point out where decorations etc. came from either, all in all a VERY inexpensive wedding.

Until next month...


P.S. Why not send this to a friend who is getting married, you might just save them a fortune!

If this was sent to you by a friend and you enjoyed it, then click here to see how to go about signing up for more copies of my FREE money saving e-zine and get a complementary wedding planner.