Easy Wedding Decorations
Easy wedding decorations need to be just that...easy.

Let's face it if they're not easy, too complicated to make or take too long to make then there's a good chance you'll put them off until the last minute or get so stressed out while doing them that you'll end up falling out with your helpers.
For these reasons I felt I should put a few ideas down on paper to help your creative juices start to flow. I've pulled together some of my personal favourite simple wedding decorations which can be read in conjunction with my article on cheap wedding decorations.
The obvious difference between these two articles is that some cheap wedding ideas can sometimes be time consuming and alternatively some of these easy wedding decorations can cost a little more but are easy and quick to prepare.
The two main categories are: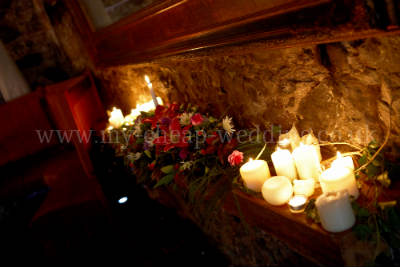 Pre-made wedding decorations:
When it comes to easy wedding decorations, pre-made are obviously going to be the easiest option as you don't have to do anything to them. You just have to source them, buy them and put them up. I still like to get value for money so I've tried to go with good value decorations that will cover as much area as possible.
Voile or tulle - Rolls of white voile or tulle are a great way of disguising bare walls in your venue and making an otherwise bland room into a really romantic venue. You'll need to consider how you're going to attach it to the walls. Consult with your venue as they may well have methods of hanging it without damaging their walls.


Garlands or bunting - these are a great way of decorating large areas and still offer good value for money. A word of caution though, please don't get carried away, as I keep saying less is more. You shouldn't feel that you have to use garlands, they're not a prerequisite.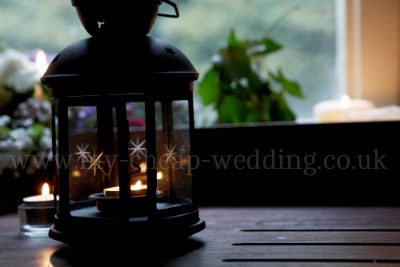 DIY Easy Wedding Decorations
This type will involve some work on your behalf but I've tried to only use ideas that are simple to create and provide you with wedding decorations that are unique to your wedding. Trust me your guests will love the personal touch.
Balloons - you'll either love balloons at your wedding or hate them. If you love them they do make for relatively easy wedding decorations and if you're selective you can prepare them quickly.

Balloon arches are quite a bit easier than you may think and look great, but they're time consuming and also timing critical. Check out my article on balloon arches to see why. An easier alternative is balloon centrepieces for guests tables, again they're time sensitive so be careful.


Voile or tulle - I know, I've mentioned this before in the pre-made section, but I want to add a DIY element to it. It's easy to lift your voile/tulle by adding strings of clear Christmas tree lights (cheaper than strings of wedding lights if bought out of season). You can also add branches etc. provided they fit in with the rest of your theme.


Candles - provided your venue is happy to allow you to use candles and tea-lights (always check, don't assume) there's nothing creates a more romantic setting (in my opinion). You'll need to be careful with your placement as you don't want to start a fire or burn any of your guests.

I had around 250 candles and tea-lights placed randomly around my ceremony room on window sills and in nooks and crannies and they were beautiful. Yes they did take a while to light and we had to wait until the last minute to light them so that the tea lights didn't burn out during the ceremony but one of my husband's friends looked after that for us (thanks Paul).


DIY Centrepieces - these are easy to create, all you need is a glass vase, they are easy to buy at any of the discount stores on the high street, some play sand (very clean and dry), some twigs or stones and a candle. Simply pour the sand into the base of the vase, place the candle in and then decorate with a few twigs or pebbles.


Photo trees - these can be bought or made and look like a little tree with little clips at the ends of all the branches to hold photos. All your then need to do is attach lots of photos of you and your other half from babies' right up to the present day. These make great conversation pieces and are guaranteed to get your guests talking.


Projector - this is a spin on the photo tree. You can hire or borrow a projector and use it to project a slide show or Power Point presentation of all your pictures from your lives apart and together onto a blank wall of your venue. It also means you have one less wall to decorate.


Hand painted signs - make personal hand painted signs out of old pieces of wood (the more distressed the better) or packing crates. Then decorate them yourself and use them to direct your guests around your venue for example, the bar, toilets, parking, garden etc. Wood can be distressed by scorching it with a propane burner but PLEASE BE CAREFUL.

These ideas are just a few of my own personal favourites but I've no doubt you'll be able to come up with even better ones or maybe adapt some of these to better suit your theme.
You should also check out some of my other articles on various aspects of wedding decorations such as outdoor decorations, centrepieces, balloon decorations and many more. For a full list use the link below to return to my main page on cheap wedding decorations.
Return from Easy Wedding Decorations to Cheap Wedding Decorations.